pursuits
Lew Says There's a 'Lot to Feel Good About' in U.S. Economy
By
Need to make sure benefits of growth are more broadly shared

U.K.'s Osborne praises handling of Fed's rate decision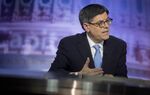 Treasury Secretary Jacob J. Lew said the U.S. is growing in a strong way, and that there is "a lot to feel good about" how the economy is progressing, days after the Federal Reserve raised interest rates for the first time in almost a decade.
While the country needs to ensure that the results of that growth are more broadly shared so that workers feel the benefits, the economy is doing well, Lew said in an interview with "CNN's Fareed Zakaria GPS" that will air on Sunday.
"Frankly, the U.S. economy is doing quite well. We have a lot of international headwinds, and notwithstanding that, we're staying in a very good place," said Lew, according to a transcript provided by the network. "We're seeing strong consumer demand, record levels of auto sales, and improvements in the housing market."
Citing traditional independence between the central bank and the executive branch, Lew declined to comment on the decision by the Fed on Wednesday to raise the target for the federal funds rate by 0.25 percentage points.
On the same broadcast, U.K. Chancellor of the Exchequer George Osborne praised the Fed for handling the rate move "very professionally."
"I think it was well signaled," Osborne said. "It did not cause a great deal of turbulence or trauma in the market. And it is quite a significant moment after so many years of rates at the floor to be starting to raise them."
Osborne said he was "a great admirer" of what the Obama administration has done to boost the country's economy since the recession of 2008-09.
The U.S. and U.K. are "shouldering the burden of a lot of the world's growth" since the Euro zone "sadly remains weak, although a little stronger than it was," and some emerging economies face big challenges, Osborne said.
Before it's here, it's on the Bloomberg Terminal.
LEARN MORE