The Whole Foods Co-CEO Has Saved Up 338 Days of Vacation Time
by
U.S. executives are racking up time off, shunning the beach

`You've got to make sure you get your batteries recharged'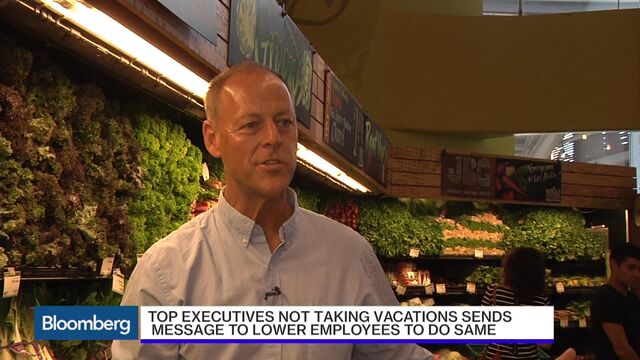 If Walter Robb went on vacation today, he wouldn't have to be back at work as co-chief executive officer of Whole Foods Market Inc. until about March -- of 2017.
Robb has accumulated 2,703 benefit hours -- better known as paid time off -- since he joined the grocery-store chain in 1991. Chopped into 8-hour shifts, they add up to 338 days, which he can take in time or cash. While Whole Foods is the rare U.S. company that lets employees roll all their vacation over year after year, Robb's not unusual in his aversion to actually using it.

Proxy filings tally untouched vacation time. Steven Mollenkopf, CEO of Qualcomm Inc., has had at least $121,000 in accrued vacation pay at the end of each fiscal year since 2010. HCA Holdings Inc.'s R. Milton Johnson had $152,308 at the end of 2014. Apple Inc.'s Tim Cook was reimbursed $56,923 in 2014 for unused time.
"With technology today, forget it -- you're never off," said Jon Luther, former CEO of Dunkin' Brands Group Inc., who did take vacations but would spend mornings on work calls before switching to relaxation mode. It's dangerous not to schedule downtime, he said. "You've got to make sure that you step away from it on occasion to draw a deep breath and get your batteries recharged."

It should be easy to totally tap vacation time in the U.S., because there's so little of it, relatively speaking. American employers typically mete out between 15 to 25 days a year to top managers, based on a survey by executive coaching company Vistage Worldwide Inc. Laws in countries including the U.K. and Sweden require that all workers get about five weeks.
In fact, the U.S. is the only advanced nation that doesn't mandate paid leave, according to a report from the Center for Economic and Policy Research. That, coupled with bosses who rarely go on breaks, can create a "culture where employees feel insecure about taking vacations," said Eden Abrahams, managing partner at Clear Path Executive Coaching.
A handful of U.S. businesses go to another extreme: unlimited vacation. That means workers can take as many days as they like -- or dare. Netflix Inc. introduced the policy in 2004 and others in Silicon Valley, including Uber Technologies Inc. and Reddit Inc., have adopted it. Netflix CEO Reed Hastings told an audience at the New York Times Dealbook Conference in November that he takes off about six weeks a year and is "open about it internally to try to set a good example."
At Whole Foods, each of the seven top executives -- including co-founder and co-CEO John Mackey and Chief Financial Officer Glenda Flanagan -- had more than 1,200 hours of accrued time off as of September last year, according to its most recent proxy filing.
The amount "they have accumulated is, in large part, a reflection of the decades they have dedicated to serving Whole Foods Market," Michael Silverman, a company spokesman, said in an e-mail. Spokesmen at Qualcomm, HCA and Apple declined to comment on their executives' vacation time.
Whole Foods employees have the option of cashing their time out at 75 percent of accrued value once a year or collecting the full sum when they quit.
"If your top guy walks away with a couple of hundred thousand dollars of unused paid time off, that probably sends a message to other people within the organization: 'That's what we should do,"' said Michael Molina, Vistage's chief human-resource officer. Executives have a responsibility to be role models, he said, which is why he tries to use all his four weeks of annual leave.
Certain situations, such as being new on the job or leading a turnaround effort, could make it impossible, or unwise, for someone to dip into the time-off pot, said Luther, a director at Six Flags Entertainment Corp. since it emerged from bankruptcy in 2010. "It's an ongoing discussion on compensation committees to make sure that everybody isn't burnt out."
When Colin Hall, chief marketing officer of shoe retailer Allen Edmonds Shoe Corp., went to Hawaii with his family in 2010, he logged on in the wee hours and shut down before noon. "I felt like I worked a full day but then the afternoon and evening was totally free," Hall said. "I was literally guilt free."
At a small company, it can be hard to disappear. Deb Erickson, founder of The Line Up, which makes cheerleading costumes for the Minnesota Vikings and Baltimore Ravens football teams, said she's lucky to get away for just a couple of weeks because there aren't many on staff who can fill in for her. Erickson doesn't have any vacation plans at the moment, but she can dream.
"I think I'd go somewhere in Europe," she said. "Someplace far enough that no one can really get to you."
Before it's here, it's on the Bloomberg Terminal.
LEARN MORE