What to Watch as Spain Goes to The Polls
The election outcome may mean weeks of market uncertainty and could slow the recovery
by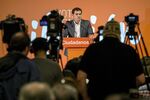 The final opinion polls before Sunday's election show Spain's ruling People's Party is on track to garner the highest number of seats but may fall short of a majority.
Most analysts expect a coalition between PP and the newly formed Ciudadanos party but point out it could take weeks or more for the two parties to reach an agreement.
And the swing toward the radical left Podemos in the most recent surveys adds to the uncertainty about how easily a government can be formed.
If that trend continues, the combined number of PP/Ciudadanos may also fall short of a majority, Deutsche Bank says.
Reforms may slow irrespective of who forms the next government, analysts say, with any extended period of political uncertainty potentially slowing the recovery.
Who's who
PP, led by current Prime Minister Mariano Rajoy, had its worst local election result in 24 years in May, amid a proliferation of new parties and number of political scandals.
The party's share of the vote has been edging lower with two polls this week showing a 25 percent to 26 percent share, compared with a five-poll average of 28.1 percent.
The Socialists, alongside PP were, part of the traditional two-party system that had dominated the Spanish political landscape. Its five-poll average is 20.7 per cent.
The pro-European Ciudadanos party's Albert Rivera is seen as the likely king-maker after a meteoric rise for his party with about 19 percent share of voters intending to back his party.
This week, one poll showed the anti-austerity Podemos overtook Ciudadanos to take the third spot in voter intentions.
What's next
Polls close at 8 p.m. local time on Dec. 20 and exit polls will be out shortly thereafter.
Even if PP and Ciudadanos parties secure enough seats to form a government, it may take some time for them to agree on who will lead it as Rivera's party has said it won't back Rajoy for premiership.
Following the election, the king of Spain will hold consultations with the leaders of political parties to propose a candidate. And congress will be convened within 25 days after the elections to vote on the candidate proposed by the king.
If his nominee doesn't get an absolute majority, there will be a second vote 48 hours after where only a simple majority will be required.
In case congress fails to agree on the next PM, it has two months to elect a candidate through the same procedure, after which new elections will be called.
Societe Generale analyst Yvan Mamalet believes a government will take office in the second half of January, although a longer process is possible.
What are the likely outcomes
According to latest polls, the PP is set to win up to 124 seats vs the 185 seats it currently holds and the 176 needed for a majority.
Societe Generale's Mamalet sees a 75 percent chance of a PP/Ciudadanos government, a 15 percent likelihood of a PSOE-led left wing government and a 10 percent probability of a PSOE-Ciudadanos coalition.
Only if the PP and Ciudadanos fail to find an agreement, PSOE leaders will decide to lean toward the center and Podemos implicitly backs such a deal.
HSBC analyst Fabio Balboni says while Spain has a history of stable minority governments, that outcome is less likely this time as the gap between the winning party's number of seats and what's needed for a majority looks set to be wider.
Balboni says a coalition between PP and Ciudadanos is most likely, followed by a three-way alliance involving PSOE, Podemos and Ciudadanos while calculating a PSOE/Ciudadanos alliance might not have a majority.
The parties are unlikely to rush to make concessions, he says and that it could take time before a government is formed.
Indeed, new elections can't be ruled out. A prolonged period of uncertainty could start weighing on consumer and investor confidence, affecting the recovery, Balboni adds.
Berenberg economist Holger Schmieding says while Ciudadanos are still modestly ahead of Podemos in the polls, the fact that the latter has gained ground means that the lead is within the statistical margin of error.
A formal or informal conservative-liberal coalition may need the support of some smaller regional parties who would press their regional demands, he says.
The risk that Podemos could heavily influence Spanish policy after the elections is though much smaller than it was a year ago and the party seems to be less radical than it was, he adds.
What else is at stake
A government made up of the PP and Ciudadanos would be the best outcome for Spain's economy in both the short and long term, according to around 2/3 of respondents in a Bloomberg survey.
Barclays analysts Apolline Menut and Antonio Garcia Pascual believe the policies of the next government could determine whether Spain's growth prospects move closer to Ireland's or stay closer to its Southern neighbors.
Even if a minority government were appointed, political risks could emerge from a more fragmented parliament, which could weaken the government's ability to deliver further reforms, they say.
Deutsche Bank's Marco Stringa says domestic demand growth needs to remain strong enough to reduce unemployment to avoid a new shift toward populist parties and needs to be balanced by a strong external performance in order to decrease the country's large net external debt.
Meeting these objectives requires a decent improvement in productivity and leaves very little room for populist policies, he says.
Societe Generale's Mamalet says the focus of the electoral manifestos is on household income, not on economic reforms, suggesting any significant fiscal consolidation or structural efforts even after the elections is unlikely.
RBC analyst Timo del Carpio says the coalition negotiations themselves could at the very least imply a prolonged period of policy uncertainty, which could weigh on business investment at a time when the economy is increasingly reliant on domestic demand.
In all scenarios, there's a risk of fiscal slippages, which could raise fresh concerns about Spain's debt sustainability, HSBC's Balboni writes.
Will it mean the end of Catalan secession moves
A new PM may make negotiations about enhanced autonomy for Spain's regions easier, Berenberg's Schmieding says. The abrasive way in which Rajoy has brushed off Catalan demands for more autonomy had led parts of the Catalan mainstream to demand full independence instead.
The issue of Catalonian independence is unlikely to disappear but expect the next govt to mitigate this risk and some concessions toward Catalonia (and other regions) are likely, Barclays's Menut and Pascual write.
These may include a reform of the redistribution of the fiscal balances and further devolution of powers, possibly even greater fiscal responsibilities, they say.
RBS credit strategist Alberto Gallo expects more clarity on the political situation and on the negotiating strategies of both the secessionist groups and the national government, with a negotiation for greater financial autonomy likely. The possibility of a Catalan presence in the central govt could facilitate negotiations, he adds.
What does the vote mean for markets
Deutsche Bank's Stringa says the main risk remains political impasse and the chance of an unstable govt as a result of unprecedented fragmentation of parliament is building.
Events this year show this matters as Spain's economy outperformed Italy's but financial assets underperformed, he adds.
The spread between Italy and Spanish government bonds is tight, suggesting markets are complacent, HSBC's Chris Attfield writes. Most scenarios are benign, but if PSOE gets a strong result concerns of a coalition involving Podemos could cause volatility.
Market moves around Portugal elections shows market pricing can be slow with the selloff taking nearly a month to take off, he adds.
If a deal was reached in principle before January, the spread to Italy could narrow, possibly to parity.
Commerzbank analysts expect Spanish and Italian government bonds to struggle relative to core European government bonds around the vote.
And Danske Bank analysts point out ECB will stop buying bonds between December 22 until the new year making market interesting. RBS macro credit strategist Alberto Gallo though says political risks are overblown and after the political dust settles.
Spain's economy will continue to show strong fundamentals as investment, lending and employment are growing. Favors Spanish credit over Italy's on improving fundamentals and wider valuations even as he recommends a more cautious approach to Spanish names with high emerging market exposure.
Before it's here, it's on the Bloomberg Terminal.
LEARN MORE