S&P 500 Falls to 2-Month Low as Stocks Extend Post-Fed Selloff
by
Dow average suffers its biggest decline since Sept. 1

Trading volume surges the most since August amid expirations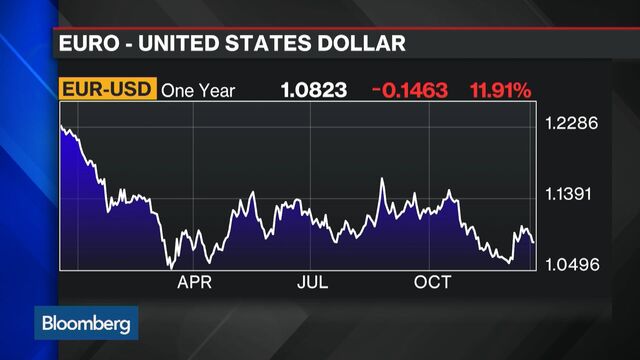 U.S. stocks suffered the biggest two-day retreat in three months, as investors weighed the impact of the Federal Reserve's interest-rate increase and the prospects for slowing global growth.
The Dow Jones Industrial Average tumbled more than 360 points, as Apple Inc., Walt Disney Co. and Boeing Co. fell at least 2.7 percent. Banks, technology and consumer companies in the Standard & Poor's 500 Index all lost more than 1.4 percent to pace a broad selloff.
The S&P 500 fell 1.8 percent to 2,005.55 at 4 p.m. in New York, closing at its lowest since Oct. 14. The gauge's slide today wiped out a weekly gain of as much as 3 percent. The Dow also sank to a two-month low, down 367.29 points, or 2.1 percent, to 17,128.55. It was its biggest drop in more than three months. The Nasdaq Composite Index lost 1.6 percent.
Equities extended declines in the final minutes of trading amid the quarterly event known as quadruple witching, when futures and options contracts on indexes and individual stocks expire. More than 12 billion shares changed hands on U.S. exchanges Friday, 71 percent above the three-month average and the most since the height of the summer selloff on Aug. 24.
"We had a big rally off of the Fed," said Troy Gayeski, senior portfolio manager at SkyBridge Capital. "But if equities continue to slide, sentiment may have already flipped to thinking there's not going to be a Santa Claus rally, let's de-risk and become more conservative."

Stocks remained under pressure for a second day following the Fed's first rate increase in nearly a decade. With the central bank withdrawing stimulus, even if it's promised to do so at a gradual pace, investors are growing cautious as earnings and ultimately the economy are left to drive stock prices.
The S&P 500 rebounded as much as 13 percent from an August low through early November, before giving up nearly 5 percent since then. The index has fallen 3.6 percent in December, bucking the historical seasonal trend of gains, and headed for the biggest annual drop since the 2008 financial crisis.
While this week's Fed rate decision removed a measure of uncertainty on financial markets and added to optimism that the world's largest economy is on firm footing, it did little to allay concern that global growth remains vulnerable to a slowdown in China and a related rout in commodities.
Fed Optimism
Federal Reserve Bank of Richmond President Jeffrey Lacker said in remarks today the rate increase was a positive reflection on the economy. Following the central bank's move on Wednesday, Chair Janet Yellen repeatedly stressed her confidence in the health of the economy and played down concerns that it would be knocked off course by weakness overseas or by the recent tumult in the high-yield bond market.
"The Fed hiked, the world didn't end," said Ross Yarrow, director of U.S. equities at Robert W. Baird & Co. in London. "Now the focus goes back to all the things to be worried about in 2016. There's no huge reason for people to be putting money to work between now and the end of the year."
The Chicago Board Options Exchange Volatility Index rose 9.3 percent Friday to 20.70. The measure of market turbulence known as the VIX fell 15 percent this week after a 65 percent surge last week, which was the most since August.
All of the S&P 500's 10 main industries slumped today, with financial, technology and consumer staples shares losing at least 1.7 percent. Phone companies and utilities declined less than 1.3 percent to rank as the session's best performers.
Financials Slump
Banks led financials lower, with the KBW Bank Index falling 2.9 percent after a 2 percent drop Thursday. The gauge had its worst two-day drop -- 4.8 percent -- since Aug. 25. Citigroup Inc. and Regions Financial Corp. decreased more than 3 percent.
"We initially saw financials do well on the (Fed) news, but they subsequently sold off," said Bernie Williams, chief investment officer at San Antonio-based USAA Federal Savings Bank. "There's concern on the financials' exposure to energy and their loans, especially the regional banks."
Consumer staples shares in the benchmark also had their biggest back-to-back slide since August. Procter & Gamble Co. and Clorox Co. fell at least 2.6 percent. Among consumer discretionary companies, CarMax Inc. tumbled 6.4 percent, the most in a year, after the used-car dealer's quarterly results missed estimates.
Disney dropped 3.8 percent, the steepest since Aug. 20, after BTIG Research analyst Rich Greenfield cut his rating on the stock Friday to sell, saying "Star Wars" profits won't offset larger troubles Disney faces from shrinking subscribers at its ESPN sports network.
Offshore Drillers
Transocean Ltd. and Diamond Offshore Drilling Inc. slid at least 3.3 percent. Statoil ASA canceled the lease for a Transocean ultra-deepwater rig because there wasn't enough work for it. Offshore rig owners are suffering from the double whammy of a glut of new vessels entering the market at the same time as falling crude prices force oil explorers to cut spending.
Energy companies are down 12 percent in December, heading toward their worst month in more than four years and are at their lowest level since the bottom of the summer selloff in August.
Knight Transportation Inc. lost 5.9 percent after cutting its fourth-quarter profit outlook, sending trucking companies J.B. Hunt Transport Services Inc. and C.H. Robinson Worldwide Inc. down at least 2.7 percent. The Dow Jones Transportation Average lost 2.3 percent to its lowest since April 2014.
Boeing Down
Boeing Co. dropped 4.1 percent to approach a two-month low. Analysts warned that cheap oil and rising interest rates could clip near-term aircraft sales and hamper the strong cash generation that has drawn investors to the stock.
Among other companies moving on corporate news, Darden Restaurants Inc. surged 7 percent, the most in two years after the parent of Olive Garden and LongHorn Steakhouse increased its annual forecast. The brighter outlook follows a proxy battle with investment firm Starboard Value last year that led to the entire board being replaced.
Carnival Corp. added 3.9 percent, its best gain in two months. The world's biggest cruise operator rose after saying advance bookings for the first three quarters of 2016 are well ahead of the previous year at slightly higher prices. Royal Caribbean Cruises Ltd. climbed 2.1 percent, rising for the fourth time in five days.
BlackBerry Ltd. gained 10 percent, the most in almost a year after boosting software revenue and saying it will likely pull its struggling handset unit into profitability within the next two quarters.
Before it's here, it's on the Bloomberg Terminal.
LEARN MORE