This Season, Retailers Have Real Reason to Blame the Weather
By
December on pace to be one of warmest in recent memory

Balmy temperatures will add pressure to struggling chains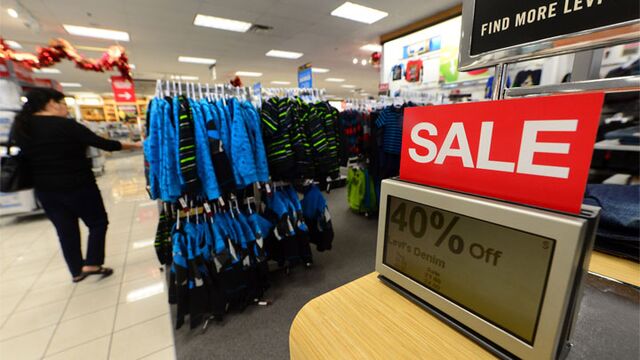 Retailers like to drag out weather as an excuse -- often dubiously -- to explain away lackluster results. But this Christmas it looks like they have a legitimate gripe.
This holiday-shopping season has been historically warm. November was balmy in much of the U.S., and this month has been even more so. The second week of December was the hottest for that period in North America in more than half a century, according to weather data provider Planalytics Inc.

That's adding to the woes of companies like Macy's Inc. and Gap Inc., which typically sell lots of coats and sweaters, as they enter the final shopping weekend before Christmas. Apparel chains had been struggling coming into the holidays after spending shifted toward home goods, services and travel. The balmy temperatures -- it was 59 degrees Fahrenheit in New York (15 Celsius) on Thursday -- will probably exacerbate their plight as inventory piles up and they are forced to use more discounting than expected to get rid of it, according to Scott Bernhardt, president of Planalytics. And it's not just clothing: Skis and snowblowers will also be hurt, he said.
"It's a bad situation made worse by the weather," Bernhardt said. "Last weekend, most people would rather be golfing than buying coats."
The Black Friday weekend had already raised doubts about how many retailers will perform in the fourth quarter. Purchases at brick-and-mortar locations declined an estimated 10 percent, according to ShopperTrak.
H&M's Slowdown
Hennes & Mauritz AB blamed unseasonably mild weather in North America and Europe for quarterly sales that missed estimates. Zara owner Inditex SA, however, reported its fastest sales growth in three years, showing how the Spanish company's focus on value for money and choice are paying off.
The weather has put pressure on chains to offer better deals and other enticements -- the crowds aren't just going to show up on their own.
"It's about who has got the best offer," said Jonathan Pritchard, an analyst at Peel Hunt in London.
Retailers are hoping to get a boost from this weekend's "Super Saturday," the last Saturday before Christmas and one of the busiest days of the year. And the weather may cooperate: Temperatures are forecast to drop across much of the U.S.
But the reprieve will probably be short-lived. In the eastern half of the U.S., there is a high chance temperatures will soar above normal through the end of December, according to the U.S. Climate Prediction Center. In New York City, forecast models show temperatures near 70 degrees Fahrenheit on Christmas Eve.
"It has just been awful for retailers," Bernhardt said.