Smoggy With a Chance of Disruption: Beijing Issues New Red Alert
Bloomberg News
City official says Beijing must weigh economic, social factors

Red air pollution alerts to happen two or three times a year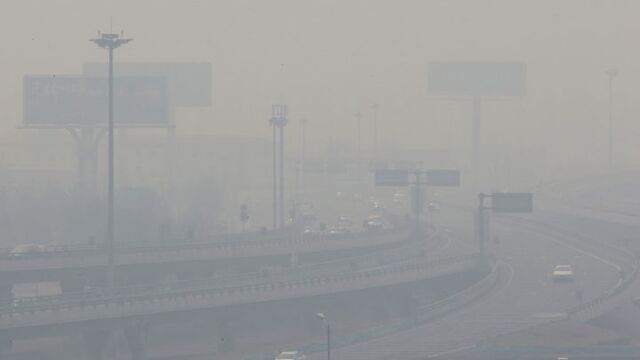 A Beijing environmental official said the city will look to improve its smog warning system to avoid disrupting the lives of its 20 million people, while acknowledging that pollution -- and the red alerts that mandate traffic restrictions and school closures -- won't go away anytime soon.
Given current pollution patterns, Beijing should expect two to three red alerts each year, Yu Jianhua, chief engineer of the Beijing Municipal Environmental Protection Bureau, said in an interview Dec. 17. Hours later, Beijing issued a red alert -- its highest pollution warning -- for the second time in two weeks, with the forecast calling for hazardous smog through Dec. 22.
"The plan design should consider factors including the economy, societal tolerance and pollution levels," Yu said, declining to detail any changes in store. "It's indeed a difficult problem and a big challenge, but we must face the problem in the process of curbing pollution."
Yu's remarks reflect the balance that Chinese officials must strike as they grapple with the smog that routinely blankets northern China. Past failures to clear cars from the road or keep kids out of the smog spurred accusations of inaction, while the alert system drew criticism about the turmoil it causes the city's 20 million residents.
Already, there was grumbling on Chinese social media about the restrictions that came with the alert issued early Dec. 18. "Don't make trouble for cars -- it's really very inconvenient," one Internet user wrote on a discussion board on Sina Corp.'s microblogging service. "Will red alerts for air pollution become an ordinary thing now?" asked another.
Beijing introduced its four-colored pollution warning system in 2013 but only issued its first red alert on Dec. 7. In the interview, Yu said that more red alerts were the inevitable result after a March decision to lower the pollution level that triggers a red alert to air quality of 200 from 300.
The air quality index in Beijing was 115 as of 12 p.m., indicating "light" pollution, the local environmental monitoring center said. The reading of PM2.5 -- the smallest particles that pose the greatest health concern -- was 45 micrograms per cubic meter at Tiananmen Square. The World Health Organization recommends no more than daily average exposures of 25 micrograms.
Yu said the city's forecasting was more advanced, which would prompt changes to the way alerts are delivered. Following the Dec. 7 alert, some Beijing residents were unhappy because the warning came late on a Monday evening, giving people little time to prepare for school cancellations and other disruptions.
Yu acknowledged that the city had a long way to go to clean up the pollution.
"Our forecasting capability has improved as the government makes deeper efforts to curb pollution and the technology becomes more advanced," said Yu. "The work is long-term and complicated."
— With assistance by Feifei Shen
Before it's here, it's on the Bloomberg Terminal.
LEARN MORE