Shrimp, Salmon and Sea Bream Have Something to Say About Spain
by
Trade is booming at Madrid's fish market, Europe's largest

Economic recovery is main theme going into Sunday's election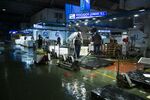 If Angel Onaindia is any gauge of voter sentiment, Spain's economic recovery alone won't deliver victory for the governing party on Sunday.
The president of the fishmongers' association at Mercamadrid, Europe's biggest fish market, watches as traders of shrimps, oysters, caviar and salmon sourced from three different continents meet at the crack of dawn to do battle over prices. A week before the festive peak in the Spanish capital, business is brisk.
"This could be our best Christmas in terms of revenue, total sales are not quite there, but this is definitely a good omen," said Onaindia, still wearing his rubber boots. He'd like Prime Minister Mariano Rajoy's People's Party to return to office, but in a coalition with one of the new parties jockeying for power.
The fathers and sons who represent the backbone of the market have decades of experience in taking the pulse of an economy that's been through its fair share of ups and downs. As Spaniards prepare to vote in a national election on Sunday, the question is whether the latest pick-up has come soon enough for Rajoy.
Spending Again
"The period of belt-tightening is over, private consumption can expand again," said Holger Schmieding, chief economist at Berenberg Bank in London. "However, the legacy of the adjustment crisis still lingers." Many Spaniards are not yet benefiting from the economic upturn, meaning that while Rajoy "has done well as a reformer, he will probably lose his majority and his job."
Official figures on the economy jibe with the auguries of the 33,000 square-meter fish market, equivalent to almost five Real Madrid soccer fields.
Spain is growing again after a six-year slump and a combination of tax breaks, low interest rates and cheaper oil are boosting disposable income, with consumer confidence jumping to a record.

Each household in Spain intends to spend 684 euros ($740) this Christmas, 10 percent more than last year, according to a survey by Deloitte LLP. As for food and drink -- including their beloved festive shrimp and sea bream -- Spaniards will likely spend 208 million euros, according to the Deloitte report last month.
A gourmet fish stall at the Mercamadrid shows off its signature Scottish smoked salmon presented in a whisky-infused wooden box. A kilo of its black-label salmon sells for a wholesale price of 20 euros, and commercial director Juan Eugenio Hernandez is expecting to sell lots of it this Christmas.
"We've seen the trend change from the previous Christmas, which was frankly austere," said Hernandez, who also sells 4,000-euro tins of Iranian caviar to five-star hotels and fancy restaurants in central Madrid. "What you see now is middle-class families treating themselves after a difficult time."
Uncharted Waters
With the Spanish economy motoring along at the fastest pace in eight years, the 60-year-old Rajoy is presenting himself as the only candidate who has enough experience in government to safeguard that recovery and keep creating jobs.
With no party expected to win a majority, Spain is entering uncharted waters. The final poll before a pre-election blackout put Rajoy's People's Party, the Socialists and anti-austerity Podemos and centrist Cuidadanos, two parties fighting their first national election, all between 17 percent and 28 percent.
"I'm not scared of what might happen on Sunday," said Onaindia, who has been in the fish business for 30 years. "My ideal scenario is that PP wins, but needs the support of Cuidadanos. Sure, stability is good, but there is stuff that needs fixing and should be improved."
Buying Fresh
Originally from the Basque region, Onaindia owns two fish stalls as well as representing the traders' association. He wakes up every day at 2 a.m. to organize the day's trade, rushing for three hours as he takes orders, and then puts his feet up around midday after his day's work is done.
More than 1 billion euros of seafood passes through the market each year, with 132,000 metric tons exchanging hands across 156 fish stalls.
As the sun begins to rise, restaurant owner Carlos Gomez arrives as the 20 tons of ice that keep the market cool everyday begin to melt. He's hoping to grab a last-minute bargain of lobster, hake and anchovies and has 3,000 euros to spend.
"Fish should be fresh," said Gomez, 61, from Segovia, about 90 kilometers (56 miles) north of Madrid. "Hopefully this will do for the week."
Before it's here, it's on the Bloomberg Terminal.
LEARN MORE