Rajoy Raises Specter of Left-Wing Pact as Podemos Rises in Spain
by
Premier's PP party poised to lose majority, polls show

Not time to play `Russian roulette' with economy, Rajoy Says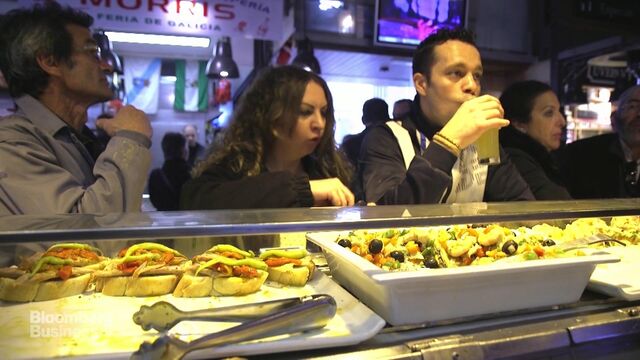 Prime Minister Mariano Rajoy urged Spaniards not to let radicals wreck the country's economic recovery as a poll showed gains for anti-austerity group Podemos on the eve of a general election.
With an opinion poll showing his lead eroding before the ballot, Rajoy's appeal follows his warning to supporters on Friday that Podemos and the Spanish Socialists will try to form a coalition if they have enough votes. In an interview with public radio, the premier noted his People's Party has been pushed out of several regions and cities, including Madrid, after the two forces struck deals.
"We shouldn't be playing Russian roulette," Rajoy told a party rally on Friday night. "We can't throw away everything we've accomplished."
While Spain's economy is climbing out of a six-year slump, polls show that voter anger over alleged corruption, a jump in public debt, and unemployment stuck at more than 20 percent will cost Rajoy's PP about a third of the support that gave it a record majority four years ago. His party is still leading in opinion polls, and the most likely candidate to join it in any ruling coalition is Ciudadanos, a pro-market party that has followed Podemos's dramatic emergence over the last two years to challenge Spain's traditional political powers.
Ciudadanos leader Albert Rivera said Friday that if he doesn't win Sunday's election he won't fight to lead the next government and will facilitate the swearing in of a new premier. He's sworn he won't make a pact with Rajoy because of links to allegations of party corruption, although he's hinted that he could support the PP if the party put forward a different candidate to lead the next government.
Rivera's stance toward the PP has softened in the final days of the campaign. He indicated Thursday that he considers Podemos's anti-capitalist policies and support for a referendum on Catalan independence a bigger threat for Spain than the prospect of another PP government.
The PP slipped to 26.2 percent, while Podemos rose to 20.4 percent, a Gesop poll showed Thursday. The PP averaged 28.1 percent in the final five official polls published Monday, while Podemos had 16.8 percent. The Socialists were second with 21 percent, and Ciudadanos had 15.9 percent, according to Gesop.
Those results would give the PP 108 to 112 deputies in the 350-seat chamber, while the Socialists are on track for 83 to 87, Gesop said. Podemos is heading for 71 to 75 lawmakers while Ciudadanos will have 50 to 54.
Before it's here, it's on the Bloomberg Terminal.
LEARN MORE