Puerto Rico Electric Reaches Tentative Pact With Creditors
by and
Accord is the final piece in a $8.2 billion debt restructuring

Any possible debt restructuring requires legislative approval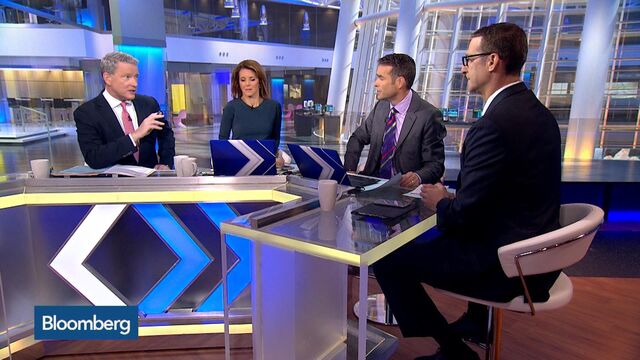 Puerto Rico's electric utility reached a tentative agreement with insurance companies MBIA Inc. and Assured Guaranty Ltd., along with some bondholders, to restructure the utility's $8.2 billion of debt, according to two people with knowledge of the discussions.
The accord sets into motion what would be the largest-ever restructuring in the $3.7 trillion municipal-bond market and potentially averts a default on $196 million of interest due Jan. 1. Under the pact with the Puerto Rico Electric Power Authority, the insurers will provide about $450 million in the event of a default through what's known as a surety bond, according to the people, who asked for anonymity because the negotiations are private. Prepa may execute a debt-exchange in the second quarter, one person said.
It took more than a year of fitful negotiations for the agency known as Prepa to strike a deal with bondholders, who in November agreed to take losses of 15 percent. The protracted process for the utility shows the difficulty Puerto Rico faces in seeking to persuade investors to accept less than they're owed on its bonds, which were sold by more than a dozen different agencies. Governor Alejandro Garcia Padilla said this week that the commonwealth will default as soon as January because it has run out of cash.

"This suggests it's possible to do it without Chapter 9," said Daniel Solender, who oversees about $17 billion, including commonwealth securities, as head of municipal debt at Lord Abbett & Co. in Jersey City, New Jersey. "It suggests there is the possibility of negotiating with bondholders."
The parties reached an agreement Thursday after Lisa Donahue, Prepa's chief restructuring officer, flew from Puerto Rico to New York City to craft a plan before an existing bondholder deal expired, one person said. Prepa will make its Jan. 1 debt payments, which will be refinanced by the bond insurers, the person said.
"It's a boost for the idea of a Prepa restructuring either in the current format, or another format," said Matt Fabian, a partner at Municipal Market Analytics.
Jose Echevarria, a spokesman for Prepa in San Juan, and Dan Zacchei, a representative in New York at Sloane & Co. for Prepa bondholders, declined to comment on the tentative agreement. The agency said in statement Friday that the existing bondholder agreement was extended through Dec. 22 to allow negotiations to proceed.
Greg Diamond, a spokesman for MBIA's National Public Finance Guarantee Corp., and Michael Corbally, a spokesman for Syncora Guarantee Inc., declined to comment on the tentative pact. Ashweeta Durani, spokeswoman for Assured Guaranty, didn't immediately respond to phone messages and e-mails.
Possible Framework
The restructuring would be the first step in Puerto Rico's goal to reduce its $70 billion debt burden by asking bondholders to take a loss or agree to delay principal payments, and it may provide a framework for agreements with other creditors. It follows a stalled effort by the Obama administration to give the commonwealth broad bankruptcy powers to help the island improve its finances and revive an economy that's failed to grow since 2006. Congressional leaders rejected access to bankruptcy as part of a budget bill crafted this week.
A Prepa bond maturing July 2029 traded Friday at an average price of 55.5 cents on the dollar, up from an average 50.6 cents on Thursday, data compiled by Bloomberg show. The average yield was about 11.9 percent.
"This is a good reason to sell Prepa bonds," Fabian said. "Any strength in Prepa bond prices is a good reason to exit Prepa positions because there's still massive uncertainty about this financing deal."
Final Piece
The accord with the insurers is the final piece in a plan to ease Prepa's debt payments so the utility can invest in modernizing a system that uses crude oil to produce electricity. The utility last month finalized a September deal with investors holding 35 percent of its debt to take the 15 percent loss. It would give Prepa debt-service relief for five years of more than $700 million and permanent principal reduction of more than $600 million, according to the utility.
A compromise with bond insurers took longer to reach than with the bondholder group because many of those investors purchased the agency's securities at distressed levels and are willing to accept less than par. Insurers would be required to make up to investors whatever principal or interest the utility fails to pay on time and in full.
The deal still needs approval from Puerto Rico lawmakers. The bondholder pact stipulates that legislation authorizing the debt restructuring must be passed and that the debt exchange must be executed by June 30, 2016. Garcia Padilla has yet to call for a special session of the legislature.
The commonwealth's agencies are unable to file for municipal bankruptcy protection, a provision that their counterparts on the U.S. mainland can access. The U.S. Supreme Court on Dec. 4 said it would hear an appeal by the commonwealth to reinstate a local debt-restructuring law that would allow some island public corporations, including Prepa, to ask bondholders to take losses.
The utility is the largest U.S. public power provider, with 1.47 million customers and $4.68 billion in electric revenue in 2013, according to the American Public Power Association. The agency is weighed down by overdue bills from other government agencies and departments and residents. Most municipalities don't pay the utility for electricity and in return the agency doesn't pay property taxes, an arrangement that benefits the local communities more than it does Prepa.

MBIA, which earlier this month closed at the lowest price since March 2010, climbed 9.8 percent, its largest single-day rally since Sept. 2. Assured Guaranty gained 4.4 percent, also the most since the pact with bondholders was first announced. MBIA insures $1.4 billion of Prepa debt, as measured by gross par outstanding, its largest exposure to the island, according to company filings. Assured backs $744 million of debt from the utility.
Before it's here, it's on the Bloomberg Terminal.
LEARN MORE