NBA's Admiral Said to Invest $5 Million in Priceline of Tickets
by
ScoreBig sells unused ticket inventory at deep discounts

David Robinson says site 'creates opportunities for the fans'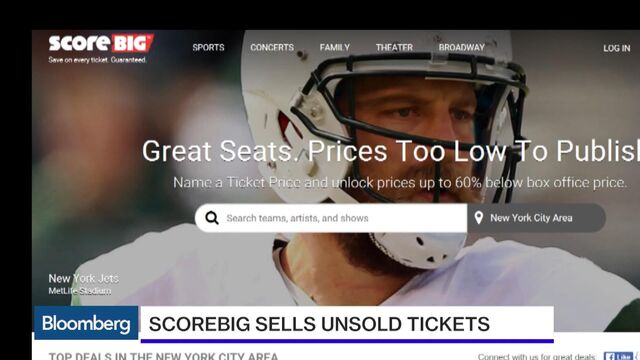 ScoreBig, a sports and entertainment clearinghouse for unsold tickets, last year received $18 million in a financing round led by the Hearst Corp. That, we knew.
What we didn't know, until now, is that the investment included $5 million from Admiral Capital Group, the private equity fund co-founded by former NBA MVP David Robinson, according to a person with knowledge of the investment. The hall-of-famer opened up about the investment because he is taking a more active role with ScoreBig, lending his Rolodex and his reputation.
"When you count up all the seats around the country that the teams can't afford to put a lot of resources to fill -- ScoreBig can do it on a larger scale," said Robinson, a U.S. Naval Academy graduate nicknamed "The Admiral." "It creates opportunities for the fans to get more times when they can come to the game and it creates a relationship where they perhaps want to become a season-ticket holder."
ScoreBig, which started in 2009, uses a Priceline-style, name-your-price model for event tickets. As with the travel site that resurrected William Shatner, buyers give up a fair bit of control. Bidders can choose a general area of an arena where they'd like to sit but can't get as specific as section, row or seat. If a bid is accepted, the buyer's card is charged.
In exchange, fans get discounts. A recent search for tickets to see the New York Islanders play the New Jersey Devils at the Barclays Center in Brooklyn turned up two $86 seats for $25 each.
Like other sites, ScoreBig sells tickets held by brokers. Unlike others, it also pitches itself as a partner to teams and venues. It wants major-league teams to funnel their unsold tickets through ScoreBig.
Some 370 million event tickets go unsold each year, ScoreBig estimates. Empty seats don't drink beer, buy thunder sticks or add to a franchise's customer database. The game has to go on regardless, but filling a seat is worth an estimated average of $20 in food, beverage and merchandise, said Scott O'Neil, Chief Executive Officer of the Philadelphia 76ers and New Jersey Devils, who is also a ScoreBig board member.
Companies like StubHub and SeatGeek predominantly sell tickets on what's called the secondary market -- the tickets have already been sold by the team and are being resold by the holder, often at a markup. ScoreBig can sell tickets it receives directly from the teams, and share the revenue, without upsetting customers like season-ticket holders or anyone else who paid full price.
ScoreBig Chief Executive Officer David Goldberg wouldn't say how many teams in the major U.S. sports are working with ScoreBig, which sees itself filling a gap in the current ticket market.
"If you've got long legs and want to sit on the aisle, then, guess what, you should be paying full price retail or secondary market," Goldberg said.
Before it's here, it's on the Bloomberg Terminal.
LEARN MORE