Merkel Cites Faith in Exponential Curve to Solve Refugee Crisis
by
Chancellor resorts to math analogy to explain her optimism

Former physicist briefs on summit outcome past midnight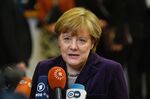 German Chancellor Angela Merkel drew on her past life as a research physicist to explain her thinking during the refugee crisis -- it's all down to the exponential curve.
Merkel, speaking past midnight after the first day of a European Union summit that had failed to make any substantial progress on the refugees issue, rewarded one reporter with a flavor of the kind of arguments she deploys in backroom negotiations with her EU colleagues.
With a prior agreement to distribute some 160,000 refugees around the bloc floundering amid the relocation of a mere fraction of that number, Merkel was asked where she gets the optimism that any future deal will be more successful.
"One can only trust in the existence of the exponential curve," the chancellor responded with a smile, before embarking on the kind of explanation that must leave some fellow leaders scratching their heads.
"Every curve, every learning curve, starts out very, very slowly, whereby the first mechanisms have to be tried out. It's not linear," she said. "That's my belief: that together we're now developing completely new procedures in Europe."
There was a moment's awed silence in the press room before she moved on to answer the next question.
As Time magazine said in an article explaining the reasons for picking Merkel as its person of the year 2015 over the likes of Donald Trump or Islamic State leader Abu Bakr Al-Baghdadi, the refugee crisis has proven to be her defining moment.
"The woman who trained as a quantum chemist did not run the tests and do the lab work; she made her stand," Time said. "'Wir schaffen das,' she has said over and over. 'We can do this."
Before it's here, it's on the Bloomberg Terminal.
LEARN MORE