Israeli Robots Take Fight to Terrorists
Roboteam's inexpensive bots are winning Pentagon contracts and taking on entrenched players like iRobot
By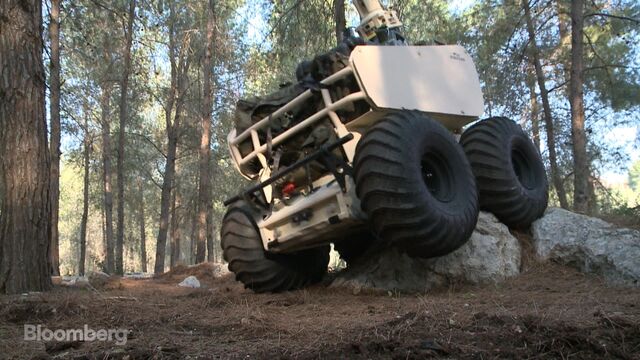 When the Pentagon recently selected a company to supply a portable, stair-climbing robot that can sniff out booby traps, top brass shunned market leaders like iRobot Corp. and QinetiQ North America. Instead, an Israeli upstart called Roboteam Ltd. got the $25 million contract, its second order for the U.S. military in two years.
Founded in 2009 by a pair of Israeli special-forces officers, Roboteam (Slogan: Dominate the Unknown) is benefiting from accelerating demand for inexpensive military bots that can be deployed by SWAT teams to foil terrorists in major cities as well as protect U.S. soldiers from improvised explosive devices in Afghanistan and other combat zones. The global market for the so-called service robots, which includes consumer machines, is growing about 17 percent per year and could reach some $18 billion by 2020, according to MarketsandMarkets analyst Antariksh Raut.
Tel Aviv-based Roboteam has managed to undercut rivals with lighter robots that sell for about half the industry average. Designed in Israel and manufactured in Bethesda, Maryland, they climb stairs and see around corners. The smallest bot, IRIS, weighs 3.6 pounds and can be lobbed into a building, providing a video stream to troops or police officers outside. The largest, PROBOT, trundles along with patrols and carries 1,650 pounds of equipment. Roboteam says its bots are as easy to operate as a PlayStation and cheaper to maintain than a military or police dog.
``All around the world, terrorism looks the same, whether it's ISIS, or in Israel, France or Chechnya," said Yosi Wolf, Roboteam's co-founder and co-chief executive officer. "Fighting terrorism is urban warfare where carrier ships and war planes are a lot less relevant. This is where special forces make the difference and these robots can be game-changers."
Wolf, who previously ran the robotics division at an intelligence-gathering company, started Roboteam with a few hundred thousand shekels in an apartment belonging to his partner's grandmother. A breakthrough came in 2012, when Wolf got whispered intelligence that a U.S. general was staying at a beachfront Tel Aviv hotel. Wolf was keen to show off drawings of a prototype for a portable military robot.  "We ambushed him in the lobby and said, 'We have to show you something,"' he says. "We brought him to our office. It was in a small garage."
All Wolf had was a PowerPoint presentation, but it was enough. The general gave Roboteam three months to build a prototype and get it to Washington for testing. Wolf's team was tightening screws on the way to the airport to meet the deadline. The prototype became the knapsack-sized MTGR (micro tactical ground robot), which is now used in Afghanistan. During Israel's last war with Hamas in 2014, Roboteam machines helped ground forces fight Palestinian militants firing rockets and infiltrating Israel through tunnels. The bots were also used to detect Hamas booby traps. Roboteam is backed by private investors, including the investment arm of Italian insurer Assicurazioni Generali SpA, and received research and development money from the Israeli government. It counts the Polish and Israeli militaries, as well as the U.S. Border Patrol, among its customers.
Roboteam is muscling into an increasingly crowded market, which includes big players like iRobot, Boston Dynamics and QinetiQ, as well as a host of Silicon Valley startups with names like Fetch Robotics and Adept Technology. While many young companies have benefited from a flurry of recent innovation, from cheap off-the-shelf sensors to an open-source robotic operating system, Roboteam uses proprietary technology. Though Roboteam is encountering more competition from small upstarts, it may see less from iRobot, which is being urged by an investor to explore options for its defense business.
David Ovadia, an Israeli colonel who first encountered Roboteam while serving in the Ministry of Defense's Research & Development unit, attributes the company's success to an intimate knowledge of customers' operational needs. He says many of Roboteam's 80 employees are in the military reserves and so can readily understand and meet requests to tweak designs. For example, U.S. soldiers using the MTGR robot in Afghanistan discovered there weren't many stairs to climb but plenty of rugged terrain. They asked Roboteam to adapt the bot to local conditions, and the company quickly swapped in new motors and wheels, lowered the center of gravity and raised the ground clearance.
"They have a good product because they put it together with the users and continue to improve and upgrade it because of user feedback," Ovadia says.  "It is also the character of how we work in Israel, and the character of a company that operates like a special military unit. They have no hours and work like crazy and are very committed to one another."
Ovadia says robots have an advantage with foes such as the Islamic State that are battling ground forces in complicated terrain, whether it is rugged or urban. Not only does using bots minimize risk to human soldiers, it also frees them up to do other jobs. ``I don't know of any first responder to terrorism that doesn't have a toolkit of robots for all kinds of missions and this is only going to increase,'' he says.

Eric Gahagan, a trooper on the Massachusetts state police bomb squad that responded to the Boston Marathon attack, says portable robots like Roboteam's help teams like his respond more effectively to threats. "We can send a robot to take a peek at what might be suspicious,'' he says. 
His squad has long used robots, but they were pricier and so large that a vehicle was required to move them around. Today the squad has more than 15 robotic platforms at its disposal, including Roboteam's MTGR. 
"In the threats we face today, with these coordinated attacks like in Boston and in San Bernardino, equipment like Roboteam's and others gives us a huge capability to assist in responding," Gahagan says. 
Wolf says his company is already profitable, has generated more than $50 million in sales and has raised $12 million in funding. After boosting production of its defense robots from the hundreds to thousands, the company aims eventually to move into the consumer and commercial markets. Future bots may help the elderly, work in mines and spray crops. 
``Robotics started in the defense industry because of the need and the large budgets for research and development,'' Wolf says. "But the next revolution will be in the consumer field, and the holy grail will be home robotics."