How Yahoo!'s Identity Crisis Infected Tumblr
Marissa Mayer's biggest acquisition has turned into a symbol of Yahoo's inability to innovate.
by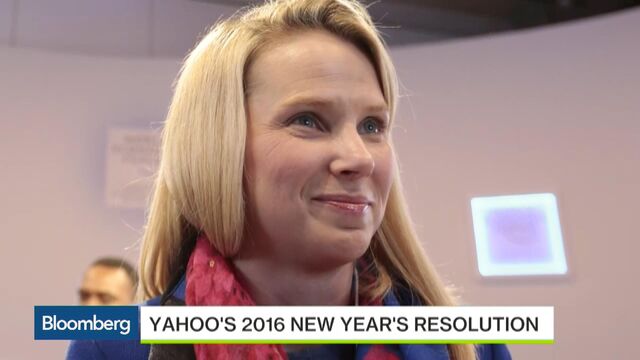 When Marissa Mayer announced in May 2013 that Yahoo! was buying Tumblr, she immediately swore "not to screw it up." Yahoo's chief executive officer was seeking to dispel fears that the company would suck all the life out of Tumblr in an attempt to increase its financial value. Instead, Yahoo seems to have left the site alone and somehow squandered much of Tumblr's financial value in the process.
Yahoo paid $1.1 billion for Tumblr, the biggest acquisition in Mayer's shopping spree for dozens of startups. As has been endlessly repeated, Wall Street values Yahoo's core business at negative $8 billion. (You get this number by taking the full value of Yahoo shares and subtracting its stakes in Alibaba and Yahoo! Japan.) In this light, it's hard to see many bright spots. Yahoo's struggles to capitalize on Tumblr's potential offer a window into what has gone wrong with the company as a whole.
"If there's a knock on Yahoo, it's that they haven't made the decision to say 'Who are we?' and how that's articulated," said Noah Mallin, a senior partner at MEC, a media agency that regularly works with the company. "There's a bit of that to be seen in Tumblr as well." 
When Yahoo came knocking, Tumblr was at a crossroads. It was a small company that was growing fast without a clear vision of how to turn its vast audience into a viable business. David Karp, its then 26-year-old co-founder, faced hard decisions about hiring business-minded executives and making money from the audience he had amassed. Yahoo promised to take on those responsibilities. It also said it would leave Karp and his team alone. That offer, paired with huge paydays for Tumblr's early employees and investors, was too tempting to pass up. Tumblr declined to comment.
By at least one measure, things seem to be coming together for Tumblr. The site's audience has grown about 50 percent since Yahoo bought it, and that increase has come mostly from mobile, according to data from research firm ComScore. However, Tumblr isn't attracting new users as fast as are competing social media services. Tumblr was the 13th-most-popular iOS app on June 20, 2013, the day the deal with Yahoo closed. It hasn't since reached that level and has spent most of the last two years outside the top 100, according to researcher App Annie.

Earlier this week, Yahoo shareholder Eric Jackson published a lengthy takedown of Mayer's tenure at Yahoo, which harshly criticized her acquisition strategy. In an interview, he said it was too early to call the Tumblr deal a failure. "They avoided the problem with other acquisitions in the past, where they tried to Yahoo-ify it," he said. "Potentially, you could do something, and David Karp is still there. I think he has ideas." 
A major criticism of Mayer's Yahoo has been a curious lack of ambition when it comes to new products. The same could be said of Tumblr, even with Karp at the helm. At a time when such apps as Snapchat have pushed the idea of media consumption and communication on smartphones, Tumblr hasn't made major changes. In the past month or so, the company gave users the ability to make GIFs on their phones, as well as to carry on instant messaging conversations via the app, a feature whose absence had baffled many users.
Kyle Bunch, managing director for social at advertising agency R/GA, said the moves are long overdue. "Snapchat has gone from 0 to 60 really fast at the same time that Tumblr has taken their foot off the gas," he said. "It feels like Tumblr was at its best when creation happened mostly on your desktop."
Bunch, like many ad professionals, isn't giving up on Tumblr. While there is continued uneasiness in some quarters about Tumblr's NSFW reputation, the blogging site has a big, young audience, and many advertisers like using its tools for building websites. Yahoo has taken some cautious steps to combine Tumblr's charm with Yahoo's reach. Last year, for instance, it started letting advertisers create posts on Tumblr, then run them on other Yahoo-owned websites.

Some advertisers grouse about Tumblr's lack of options for targeting audiences, when other Yahoo sites offer more granularity. The mismatch between the audiences of Tumblr and Yahoo's other sites is a feature, not a bug, said Ken Goldman, Yahoo's chief financial officer. "Core Yahoo, sometimes people say it's great for the middle of the country, and Tumblr is sort of great on the coast. So it's a great demographic," he said at a conference in March.
Mallin, from MEC, said Yahoo doesn't do a great job of explaining to advertisers why this should excite them. The confused pitch reflects the larger reality at the company, which has trouble explaining how all its pieces add up to something coherent. Two and a half years after Yahoo bought Tumblr, the open questions Karp was facing as the owner of an independent company remain unanswered.
Yahoo's lack of vision might bode well for Tumblr were the broader company to start selling off pieces, a distinct possibility following the reversal of the Alibaba spinoff. The blogging site hasn't seized the day under Yahoo, but Mayer has largely kept her promise: Tumblr may not have grown up as much as it should have during its time at Yahoo, but it hasn't been screwed up, either. 
Before it's here, it's on the Bloomberg Terminal.
LEARN MORE