Goldman Sachs on Microsoft: 'We Were Wrong'
A mea culpa for cloud oversight.
by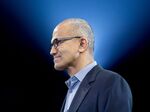 Goldman Sachs is throwing in the towel on its bearish stance on Microsoft, upgrading its shares to "neutral "and boosting its 12-month price target to $57 from $45 on Friday.
The technology company has vastly outperformed the S&P 500 since analysts downgraded it to "sell" in April 2013:

People who are unaware of current realities are often said to have "their head in the clouds."
Goldman's error on Microsoft, ironically, comes from not having its head sufficiently in the cloud.
In a note to clients entitled "Righting a Wrong," analysts led by Heather Bellini explain what they missed.
Indeed, the full first paragraph is one of the best examples you'll see of how hard it is to value and pick stocks accurately:
"We upgrade Microsoft to Neutral from Sell. Since its addition to the Sell list on 4/11/2013, Microsoft is +84 percent vs. the S&P +29 percent. Despite out year estimates consistently compressing, we failed to appreciate that the stock would disconnect from downward EPS revisions, and the significant upward re-rating of the multiple driven by Microsoft's transition to the cloud (Office 365 and Azure). We were wrong. On average, out year consensus EPS [earnings-per-share] estimates have declined 11 percent in fiscal-year 2015 and 13 percent in fiscal-year 2016 from one year before the beginning of the fiscal-year, yet during that time Microsoft's NTM P/E [next 12 months price-to-earnings ratio] multiple has increased from 10x to 20x."
Over the long haul, earnings will be the most important driver of a stock. But at a time when earnings expectations were falling, investors became increasingly willing to pay more per dollar of earnings in light of the growth potential of a certain business line.
Among the positive catalysts Goldman sees for the company are its move toward the cloud, which should continue to fuel top-line growth, and the expectation that dividend growth will pick up steam. The team thinks, however, that earnings estimates for the company in fiscal years 2017 and 2018 remain too high.
It's tough out there for an analyst.
Before it's here, it's on the Bloomberg Terminal.
LEARN MORE