Glencore's Rating Cut at Moody's Though Outlook Seen Stable
by
`Pricing environment in mining will remain unfavorable'

Trading division will contribute `strongly' to profit: Moody's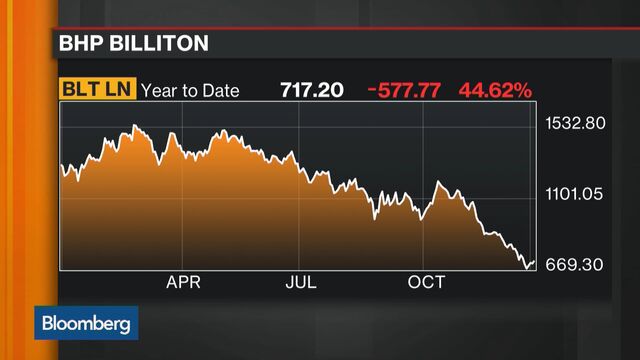 Glencore Plc's credit rating was cut to the lowest investment grade at Moody's Investor Service, who said the commodities trader will likely be able to maintain the level even if conditions in metals market don't improve for a long time.
Glencore was lowered to Baa3 and given a stable outlook at Moody's. The ratings firm said it expects an average copper price of $2.15 a pound in 2016, about the same as the current level. The shares were up 0.4 percent to 81.17 pence as of 1:02 p.m. in London.
The downgrade "reflects our expectations that the pricing environment in mining will remain unfavorable in 2016-17, making a return to the previous level of earnings unlikely," Elena Nadtotchi, Moody's lead analyst of Glencore, said in a statement. "However, we believe that Glencore has the capacity to adjust its balance sheet to a reduced earnings level in order to maintain its investment grade ratings."
The company, one of the world's biggest mining firms, is in the process of restructuring its business to cope with an ongoing decline in metals prices and cutting back debt to preserve its investment-grade rating. Glencore said last week that it plans to reduce debt to as low as $18 billion by the end of 2016 and will sell more assets.
Moody's stable outlook means it believes Glencore can manage its debt levels given the decline in earnings. The company's trading division will contribute "strongly" to profit and increase cash flow, Moody's said, adding that large moves in commodities, particularly copper, will continue to affect the company's credit outlook.
Peter Grauer, the chairman of Bloomberg LP, the parent of Bloomberg News, is a senior independent non-executive director at Glencore.
Before it's here, it's on the Bloomberg Terminal.
LEARN MORE