Glaxo to Pay Bristol-Myers Up to $1.46 Billion for HIV Drugs
by and
Bristol-Myers to get upfront cash payment of $350 million

Transactions likely to be completed in first-half of 2016
GlaxoSmithKline Plc agreed to buy Bristol-Myers Squibb Co.'s portfolio of experimental HIV treatments for as much as $1.46 billion in two transactions, bolstering one of the U.K. drugmaker's fastest-growing businesses.
Glaxo's ViiV Healthcare unit will pay $317 million in cash upfront for two drugs in late-stage development and $33 million for assets that are in the preclinical or discovery phases of research, the London-based company said in a statement today. The U.K.'s largest drugmaker may also give $518 million plus royalties if the late-stage medicines reach certain milestones, and $587 million in additional payments for the early-stage drugs if they meet targets.
For Bristol-Myers, the sale is consistent with its decision in June to discontinue discovery efforts in virology, the New York-based company said in a statement. The transactions for the two sets of assets are likely to be completed in the first half of next year.
"The agreements with ViiV Healthcare now put the development of these potentially first-in-class compounds into the hands of a global specialist company exclusively dedicated to finding new medicines for people living with HIV," said Chief Scientific Officer Francis Cuss.

Glaxo shares were unchanged at 1,342 pence as of 10:50 a.m. in London.
Pfizer Inc. and Shionogi & Co. own 22 percent of ViiV, which is one of the few bright spots for Glaxo. The unit's earnings were equivalent to more than a quarter of London-based Glaxo's operating profit last year. Glaxo in May abandoned the idea of a partial spinoff of the unit after investors signaled that they preferred to keep the current structure.
The late-stage assets acquired by Glaxo included fostemsavir, a medicine for difficult-to-treat patients that has breakthrough therapy designation from the U.S. Food and Drug Administration, and will probably be filed for regulatory approval in 2018.
The deal may be moderately beneficial in the long-term, Keyur Parekh, a Goldman Sachs Group Inc. analyst, said in a note Friday. "If successful, the late-stage assets would represent new growth drivers post-2020 as Glaxo's key HIV products Tivicay and Triumeq mature," they said.
Watch Next: Why Do Drug Prices Keep Going Up?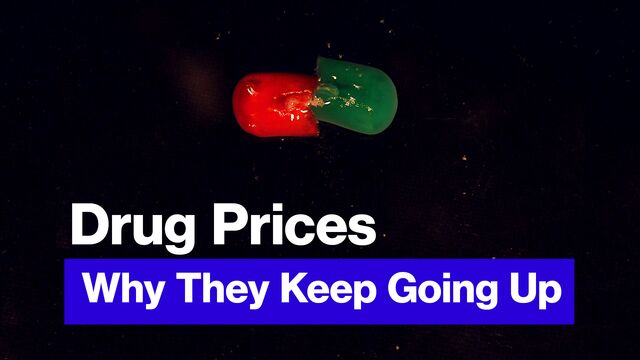 Before it's here, it's on the Bloomberg Terminal.
LEARN MORE