FIFA's Li Appears in U.S. Court to Deny Corruption Charges
by and
Li withdrew appeal of his extradition order on Dec. 11

FIFA official Figueredo will be extradited to Uruguay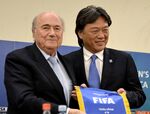 Eduardo Li, the former head of the Costa Rican soccer federation, pleaded not guilty to U.S. charges of widespread corruption at FIFA, the sport's international governing organization.
Li entered his plea Friday after agreeing to be extradited to the U.S. from Switzerland, where he was arrested. He remains in custody and may try to get bail later, his lawyer, Samuel Rosenthal, told a judge in Brooklyn, New York.
Li was handed over in Zurich to two American police officers, who escorted him on a flight to New York, the Swiss Federal Office of Justice said in a statement Friday. He was arrested May 27 in Zurich and came to the U.S. after withdrawing the appeal of his extradition order Dec. 11, Swiss authorities said.
Rosenthal said Li is eager to go to trial. The next court date is March 16.
Eugenio Figueredo, a Uruguayan soccer official who was also arrested in May, will be extradited to his home country, "where he is alleged to have abused his office for personal gain," the Swiss said in Friday's statement. Details on the timing of his transfer to Uruguay were not disclosed for security and privacy reasons, the Swiss said.
Before it's here, it's on the Bloomberg Terminal.
LEARN MORE