business
FCC Shares Soar on Spanish Builder's $768 Million Share Sale
By
Stock sale backed by Carlos Slim, world's third-richest man

FCC is raising money to reduce debt, invest in business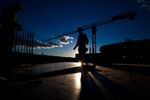 Fomento de Construcciones y Contratas SA jumped as much as 24 percent in Madrid trading, its biggest gain since at least 1992, after the Spanish builder backed by Carlos Slim announced plans to raise 709.5 million euros ($768 million) with a share sale to cut debt.
FCC was up 23 percent at 6.84 euros at 10.52 a.m., valuing the company at 1.78 billion euros. FCC said late Thursday it would raise funds by issuing 118.3 million new shares at 6 euros apiece compared with its last closing price of 5.56 euros.
FCC is raising the funds to reduce debt and invest in its business by supporting its Cementos Portland Valderrivas SA unit, the company said in a regulatory filing. It will also participate in a share sale by property developer Realia Business SA. Mexican billionaire Slim, the world's third-richest man, agreed in 2014 to become the biggest shareholder in FCC as it sought to cut debt.
"Slim's guarantee brings comfort and adds a speculative factor to the shares," wrote Joaquin Ferrer, an analyst at Kepler Cheuvreux, in a research note Friday. "Pending the details, we stick to our buy rating."

Slim's Inversora Carso unit and shareholder Esther Koplowitz pledged to exercise all their rights to buy shares in the capital increase, FCC said. Carso also said it would subscribe to any remaining stock that isn't acquired, the company said.
Carso owns 26 percent of FCC and Koplowitz 22 percent, according to Spain's stock market regulator. Bill Gates owns 5.7 percent.
— With assistance by Camila Russo
Before it's here, it's on the Bloomberg Terminal.
LEARN MORE