Failing Banks to Face Tough EU Scrutiny as New Sheriff Hits Town
by
Permanent backstop needed to build credibility, Koenig says

Final list of covered banks, other policies to come in 2016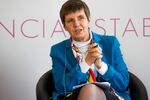 Euro-area banks next year will face tougher scrutiny about how they plan to handle their own failure as the bloc's Single Resolution Board takes up its full powers from Jan. 1.
"It was a photo finish wasn't it?" SRB chief Elke Koenig said in an interview in her Brussels office, after participating nations raced to meet a Nov. 30 deadline to ratify the Single Resolution Fund that's intended to anchor the agency's financial firepower.
The next move is up to the banks, who must reassure Koenig's agency that they are ready to manage their own demise. While each country's authorities may be the lead supervisors of their own lenders, the SRB will be looking over their shoulders to make sure plans square with EU rules and with the need for cross-border financial stability.
"When you then see the implementation of these measures, which always will be national -- now assume it doesn't fly, for whatever reason. Then it will be our responsibility to say what's the next step," Koenig said, explaining her agency's role.
After merging bank supervision in the wake of the financial crisis, the euro area sought to build a bank resolution agency that could manage big bank failures and shield taxpayers from the fallout.
The SRB will focus on the roughly 120 banks that fall under direct European Central Bank supervision, as well as other lenders doing cross-border banking, with a final list due for publication early next year, Koenig said. Also coming soon: guidelines on how the new agency will apply the EU's Minimum Requirements for Eligible Liabilities, or MREL, and specifics on how the new agency will work with lenders that are already subject to national resolution proceedings.
In general, the new agency will work alongside national authorities and focus on licensed banks. That means that it won't touch Austria's Heta Asset Resolution AG, the bad bank of nationalized Hypo Alpe-Adria-Bank International AG, Koenig said. It's not yet clear what would happen if a banking group lost its license while the resolution agency was already working on the case, she said.
One of the key issues the SRM faces is how much emergency money will be within reach if a failing lender needs to be resolved.
The SRB already has some of its own backup financing in place. Banks are due to build up a joint resolution fund gradually between 2016 and 2024, with the money staying tied to individual nations until it reaches its full strength of a projected 55 billion euros ($60 billion). In the meantime, countries have agreed to provide national credit lines if their part of the fund runs out, as well as to start talks on a more permanent backstop.
"We have always made it pretty clear to the member states that a credible bridge -- and discussion about a longer-term credible backstop -- is critical because that's what gives confidence that we can act," Koenig said.
That doesn't mean she's in any rush to make any payouts. If all goes well over the agency's eight-year transition period, "I would be more than happy to pass on a fully funded Single Resolution Fund to my successor," she said.
The SRB may increase its initial powers if nations move ahead with the European Commission's plan to create a common deposit insurance system for the euro area's planned banking union. Koenig said her agency could take on that role without compromising its current mission, if the proposal passes in something like its current form.
For now, she said, the bloc's priority should be to ensure nations implement existing deposit-guarantee rules and set up pre-funded national programs. The authorities have to ensure they have enough enforcement tools that depositor protection funds don't end up paying for "willful misconduct" at a bank that takes advantage of the system, Koenig said.
"Clearly there is a distinct role for a deposit guarantee fund and there is a distinct and different role for a single resolution fund," Koenig said. "You can definitely make the case for putting both into one agency to look after, but it's not on an autopilot for that."
Before it's here, it's on the Bloomberg Terminal.
LEARN MORE