Don't Hold Your Breath Waiting for a Wave of Defaults by American Commodity Companies
But look out for the maturity wall.
by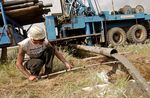 The fresh stretch of softness in commodity prices since early December has been at the epicenter of exploding junk bond spreads, causing many investors to doubt the ability of companies to service their debt.
The year 2015, according to credit strategists at Société Générale, was devoted to pricing in rising default risk.
But will 2016 be a year in which these drillers in distress are completely overwhelmed by debt?
The strategists are skeptical, calling for default rates in the U.S. high yield market to remain less than 4 percent next year. That forecast is largely in line with Moody's estimate for defaults to rise to 3.77 percent from 2.76 percent in 2015.
Next year also won't be a time in which the vast majority of these companies will be forced to tap capital markets for funding while they're in a disadvantaged state, the strategists assert. Quick or current ratios—a measure of companies' current assets relative to their liabilities—have improved dramatically across the energy and mining industries, in part because the low interest rate environment has enabled companies to refinance their obligations and push maturities further into the future. 
"Before oil prices started falling, when liquidity conditions were easy, only one-quarter of the companies in the universe had enough cash on the balance sheet to finance next year's debt," the strategists wrote. "Now that number has risen to around 50 percent."
Energy companies have proved incredibly adept at finding ways to slash costs—often by cutting payrolls—as the selling price of their products came under pressure, the bank asserts. Among U.S. energy and mining companies with high-yield and investment-grade ratings, fewer are generating negative operating cash flow, said Société Générale:

Interest charges are categorized as a non-operating expense, but thanks to the Fed's zero interest rate policy (ZIRP), servicing debt isn't too onerous for the time being.
After 2016, however, energy and mining companies are poised to run smack-dab into a maturity wall: 

 "The U.S. energy and mining companies have extended the life of their debt, and face only $5 billion worth of bond redemptions this year (concentrated in the second-half)," the strategists wrote. "However, redemptions rise quite sharply in 2017, 2018 and 2019, so the sector will need refinancing over this period."
The implications, if any, for commodity prices is that the scope for forced rebalancing to alleviate supply gluts via shuttered production might be limited in the near term. For segments in which the U.S. is a major producer—namely, oil—this entails that any large-scale adjustments from the supply side might not be a 2016 story. Conversely, operational stress rather than financial stress might be the dynamic that brings oversupplied commodity markets closer to a balance state, as analysts at Goldman Sachs posited.
The market certainly isn't sanguine about the financial condition of companies that have issued junk debt, with the strategists observing that 7 percent of the U.S. high-yield market has bonds trading at less than 50 percent of par value, but some of the worst-case scenarios getting priced in might be blown out of proportion.
"It may be, then, that investors are more concerned than they should be with the immediate threat of defaults in the U.S. energy sector," SocGen's strategists concluded.
Before it's here, it's on the Bloomberg Terminal.
LEARN MORE