China's Stocks Complete Best Week in Month as Developers Surge
Bloomberg News
New home prices increase in 33 cities in November from 27

Airlines jump on slumping fuel prices, metal stocks decline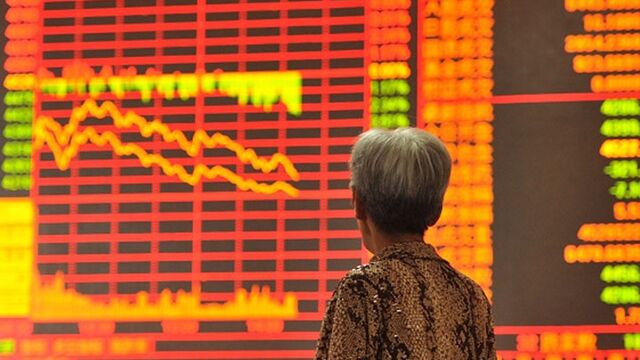 China's stocks capped the biggest weekly gain in more than a month, led by property developers, after data showed home prices increased in more cities.
The Shanghai Composite Index climbed 4.2 percent this week, the most since the period ended Nov. 6, and traded less than 0.1 percent lower at the close on Friday. A gauge of real-estate companies surged 6.4 percent in the past five days, the best performance among industry groups. New home prices rose in 33 out of 70 Chinese cities the government tracked last month, compared with 27 in October, according to the National Bureau of Statistics.
The official data showed China's home-price recovery spread to more smaller cities, after authorities rolled out easing measures targeting regions with a surplus of unsold homes. After treading water for the first 11 months of the year, property stocks have rallied this month after China's politburo, the top decision-making body of the Communist Party, vowed to reduce housing inventories as one of its key tasks in 2016.
"Policy factors are affecting property stocks most as the government is encouraging reductions in housing inventories," said Li Jingyuan, head of securities investment at Shanghai Zhaoyi Asset Management. "That's only the start of supporting policies and we'll probably see more to bolster the industry."  
Vanke Jumps
The CSI 300 Index rose 0.3 percent, led by consumer and financial companies. Hong Kong's Hang Seng China Enterprises Index slid 0.3 percent, paring a weekly advance of 3.5 percent. The Hang Seng Index fell 0.5 percent, trimming a 1.4 percent increase this week.
The Shanghai Composite has rebounded 22 percent from an August low after the government took unprecedented measures to prop up equities and speculation grew policymakers will take more measures to bolster the economy. The index is valued at 13.9 times estimated 12-month earnings, compared with 11.1 for the MSCI Emerging Markets Index, according to data compiled by Bloomberg.
China Vanke Co., the biggest listed Chinese developer, jumped by the 10 percent daily limit for a second day in Shenzhen before being suspended in the afternoon. The company said it plan to sell shares for major asset restructuring and asset purchases.
Home Prices
Vanke Chairman Wang Shi said the company doesn't welcome a consortium backed by Baoneng Group becoming its largest shareholder, according to a transcript from an internal meeting obtained by Bloomberg News. Wang said Baoneng and its affiliates lack sufficient credibility and may have a negative impact on Vanke's credit ratings and reputation, according to the transcript, the contents of which were confirmed by a Vanke public-relations manager. Vanke said a consortium backed by Baoneng Group became the biggest holder of its shares on Dec. 4.
New-home prices dropped in 27 cities last month, compared with 33 in October, the NBS data showed. Prices in November gained month-on-month in 41 cities among the 100 tracked by SouFun Holdings Ltd. That was 7 fewer than in October. Average new-home prices rose 0.46 percent in November from October, when they climbed 0.3 percent.
Airlines Surge
The Shanghai property-stock index has jumped 7.2 percent in December after rising 0.4 percent in the first 11 months of the year. Top researchers at China's central bank said on Wednesday property investment may recover next year, supported by rebounding land and home sales, while the Chinese Academy of Social Sciences said on the same day property prices will become a "growth stabilizer" as real estate investment rebounds.
Airlines gained as oil headed for a third weekly decline. Air China Ltd., the nation's largest international carrier, jumped 3.4 percent. China Southern Airlines Co. surged 7.9 percent.
Zijin Mining Group Co. led material stocks lower as commodities from bullion to oil fell overnight after the first interest rate hike by the Federal Reserve in almost a decade. Zijin Mining, China's largest gold producer, retreated 1.1 percent, while Shandong Gold Mining Co. dropped 3 percent. Yunnan Aluminium Co. sank 2 percent.
China started its central economic work meeting on Friday, which will set the tone for economic policies next year, the People's Daily said.
The nation's economic conditions deteriorated across the board in the fourth quarter, according to a private survey from a New York-based research group. National sales revenue, volumes, output, prices, profits, hiring, borrowing, and capital expenditure were all weaker than the prior three months, according to the fourth-quarter China Beige Book.
— With assistance by Shidong Zhang
Before it's here, it's on the Bloomberg Terminal.
LEARN MORE