Chairman of World's Most Valuable Developer Blasts New Investor
Bloomberg News
Vanke's Wang says he doesn't welcome Baoneng as biggest holder

Baoneng became biggest holder of Vanke shares on Dec. 4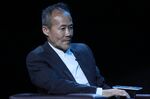 China Vanke Co. said it is planning a share sale, prompting speculation that it's trying to dilute the influence of its biggest shareholder after Chairman Wang Shi criticized the consortium backed by Baoneng Group.
Wang said the property developer doesn't welcome Baoneng and its affiliates, who lack sufficient credibility and may have a negative impact on Vanke's credit ratings and reputation, according to a transcript from an internal meeting obtained by Bloomberg News, the contents of which were confirmed by a Vanke public-relations manager. Vanke, the world's largest listed property company by market value, said a consortium backed by Baoneng Group became the biggest holder of the shares on Dec. 4. On Friday, trading in the company was halted pending a share sale.
"This could potentially be a counter-attack by Vanke to Baoneng," said David Hong, a Hong Kong-based director of China Real Estate Information Corp. "Vanke may try to introduce a third-party investor."
Vanke's shares rose by the 10 percent daily limit in Shenzhen for a second straight day, before they were suspended on Friday. The shares have advanced 73 percent this year.
Rare Spat
Baoneng Group replaced China Resources Co. as the largest shareholder of Vanke this month, prompting the rare public spat. China Resources played a very important role in Vanke's corporate governance when it was the company's biggest shareholder, including providing shareholder structure stability, helping business management and internationalization, according to the transcript. Vanke, which develops residential properties in Shenzhen, Shanghai, Beijing and other big Chinese cities, has a market capitalization of more than $40 billion.
Baoneng Group said in a statement on its website that it has a "good" reputation, it follows the laws and that it believes in the power of the market. Shenzhen-based Baoneng Group, established in 1992, is an investor with its main businesses in property development, logistics and finance, according to its website. It has about 40 projects in construction in 23 Chinese cities.
Baoneng Group's consortium, composed of two entities called Shenzhen Jushenghua Co. and Foresea Life Insurance Co., increased their stake in Vanke to 22.45 percent as of Dec. 11, from less than 5 percent, within five months.
"Whether the old shareholders, led by China Resources, will team up with Vanke, will become an important swing factor," Chen Shen, a Shanghai-based property analyst at China Securities Co., wrote in a note Thursday.
— With assistance by Emma Dong
Before it's here, it's on the Bloomberg Terminal.
LEARN MORE