Cameron's Optimism Over EU Deal May Mean June 2016 Referendum
by and
Four months needed to call U.K. vote if deal done in February

Prime minister sees `pathway' to deal at next Brussels summit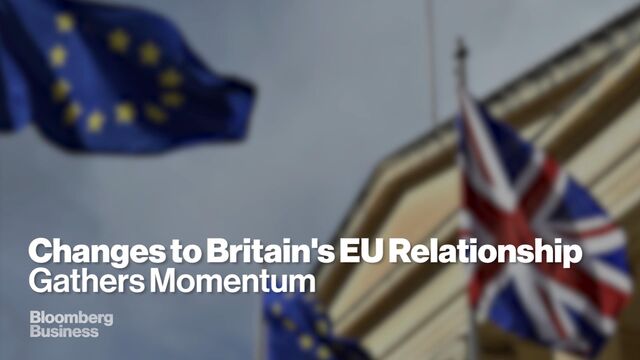 Prime Minister David Cameron's optimism that he can seal a deal on Britain's relationship with the European Union early next year has increased the possibility that he will call a referendum on continued membership for as early as June.
"There's a pathway through this to a deal in February," Cameron told reporters in Brussels late Thursday night after talks over dinner with his EU counterparts, referring to the next planned summit on Feb. 18-19. He would then be able to immediately start the process of legislation needed to hold a vote, leading to a referendum within four months.
"I believe 2016 will be the year we achieve something really vital: fundamentally changing Britain's relationship with the EU, and finally addressing the concerns of the British people about our membership," the premier told reporters at the end of the two-day meeting on Friday. "Then it will be for the British people to decide whether we remain or leave."
A quick campaign might enhance Cameron's chances of winning a vote to remain in the 28-nation bloc. He would be able to take advantage of the disarray in both the U.K. Independence Party and the main opposition Labour Party, which are both battling internal divisions, and avoid coordinated scrutiny of his deal. Cameron's comments Friday were his strongest indication yet that the vote will be held next year.
'Strong Argument'
"From an organizational point of view, looking at where the 'Leave' camp is, there's a strong argument for going sooner," Matthew Goodwin, professor of politics at the University of Kent and author of two books about UKIP, said in an interview. Still, "any referendum outside the winter would be risky for Cameron. By June you will have rising migration flows into Europe."
Ministers have calculated that the referendum could be held as soon as four months after an agreement. Thursdays are the traditional voting day in the U.K., and a date as early as June 9 is feasible, though the planned timetable makes June 16, the 16th Thursday after the end of the February summit, more likely.
"Sixteen weeks, roughly four months, plus or minus a bit, is what I think of as the period between announcing a firm date and the referendum taking place," Europe Minister David Lidington told the House of Lords European Union Committee on Monday. "We will need to have secondary legislation with an affirmative resolution in each house to specify a date. My working assumption is that takes about six weeks. Only when that is complete can we start the clock ticking on the 10-week minimum campaign period required by law."
Inconclusive Polling
Polling on voting intention in the run-up to the referendum has been inconclusive. While two telephone polls published Wednesday showed double-digit leads in favor of staying in, online polling has largely shown the two sides neck-and-neck.
"The 'Leave' camp should be holding a far more compelling lead than they're doing." Goodwin said. "I've not seen any convincing evidence suggesting 'Leave' has got a lead beyond the margin of error."
Cameron has pledged to overhaul Britain's membership of the bloc before an in-out referendum before the end of 2017. He said there's now "momentum" for a deal after the summit talks.
The main sticking point remains Cameron's determination to make citizens of other EU countries ineligible for in-work, housing and child-welfare payments until they have been in the U.K. for four years.
Opt-Out Compromise?
Leaders indicated they might accept a compromise similar to opt-outs from certain EU rules that Denmark won in 1992, an EU official said on condition of anonymity. This could be enshrined in law before the U.K. holds its referendum and could include a so-called emergency brake to enable Britain to restrict welfare payments if it could prove exceptional circumstances, the official said.
"If we can get these reforms right, and I believe that we can, I firmly believe that for our economic security and increasingly for our national security, the best future for Britain is in a reformed European Union," Cameron said. "We are well on the way to a deal, we've taken good steps forward, now we've got to bring it home."
UKIP Split
The divisions in UKIP, the only party committed to an exit from the EU, were exposed again on Friday as Douglas Carswell, the party's only House of Commons lawmaker, called for Nigel Farage to be replaced as leader.
"We have gone from being a party with 2-3 percent market share to a party with 13 percent, 14 percent, 15 percent market share, and that's a phenomenal achievement," Carswell said in an interview with BBC Essex. "But sometimes a startup needs to change gear and to change its management if it is to go to the next level."
Farage, a member of the European Parliament, dismissed Carswell's criticisms of his leadership and said the lawmaker, who quit Cameron's Conservatives in 2014 to join UKIP, does not have support in the party for his position.
Before it's here, it's on the Bloomberg Terminal.
LEARN MORE