Bruce Richards Calls Third Avenue Management 'Triple-C Cowboys'
by
Head of Marathon sees oil falling below $30 a barrel

Richards has added to short positions on energy bonds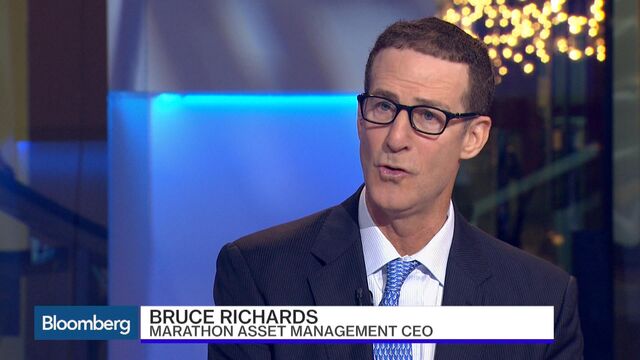 Bruce Richards, chief executive officer of Marathon Asset Management, called managers of Third Avenue Management "triple-C cowboys" for loading up on hard-to-sell unrated and low-rated bonds.
"The big picture is that mutual funds are offering daily liquidity, so they have to be very strongly managed with cash balances, lines of credit, good, quality names that you can trade in the marketplace when you need to sell, as opposed to what Third Avenue was doing," Richards said Friday in a television interview on "Bloomberg <GO>."
The Third Avenue Focused Credit Fund took the rare step last week of freezing redemptions, triggering a selloff in high-yield bonds and equity markets worldwide. The fund's assets were concentrated in distressed companies, with 82 percent in bonds rated CCC or lower or that had no ratings at all.
Daniel Gagnier, a spokesman for Third Avenue at Sard Verbinnen & Co., declined to comment.

High yield has slumped as oil prices have collapsed, with the iShares iBoxx $ High Yield Corporate Bond exchange-traded fund losing 6.7 percent this year. The price of a barrel of oil could fall below $30 due to a "glut of supply," and as many as a third of energy companies will default over the next three years, Richards said.
"This is the the worst non-recessionary year we've ever had for high yield," Richards said. New York-based Marathon has added to short positions on energy bonds, he said.
Richards said he has kept about 40 percent of his portfolio in cash, up from about 20 percent last year. He said next year should present more opportunities in distressed credit.
"There are some very good names trading very attractively," Richards said.
Before it's here, it's on the Bloomberg Terminal.
LEARN MORE