Brazil's Esteves Released From Jail, Now Under House Arrest
by and
Release follows judge's Thursday ruling revoking detention

Esteves's lawyers say his arrest was based on hearsay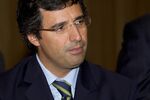 Andre Esteves, the billionaire founder of Grupo BTG Pactual SA, was released from jail, three weeks after being arrested in connection with a corruption probe in Brazil.
The release follows a judge's order Thursday revoking his detention and requiring that the investment banker remain under house arrest at his home in Sao Paulo. Esteves, who stepped down as BTG's chairman and chief executive officer four days after his Nov. 25 arrest, can't have contact with other people involved in the investigation or employees of BTG, according to his attorney, Antonio Carlos de Almeida Castro.
Esteves, 47, was jailed on suspicion that he and Senator Delcidio Amaral sought to interfere with testimony in the pay-to-play corruption scandal engulfing the state-owned oil giant, Petroleo Brasileiro SA.
The case against Esteves hinges on an encounter last month between Bernardo Cervero and Delcidio Amaral, the Senate leader for the ruling Workers' Party, according to the supreme court magistrate's Nov. 14 arrest order. Bernardo is the son of Nestor Cervero, a former executive at Petrobras who was arrested Jan. 14 for his alleged role in the so-called Carwash scandal.
Bernardo Cervero was secretly recording the meeting, and captured Amaral saying on the tape that Cervero's family would benefit from Esteves's wealth if Nestor Cervero kept the senator's name out of any testimony he provided prosecutors, according to the arrest order.
Amaral only used Esteves's name during the meeting as a "bluff," according to a document the senator submitted to Brazil's supreme court on Dec. 15.
Hearsay Claim
Esteves's attorneys argued that his arrest was based on hearsay, and that Amaral used his name at the meeting with Cervero without his knowledge. Esteves's attorneys also argued in his defense earlier this month that their client had been arrested only because he's one of the wealthiest people in Brazil. Nestor Cervero's testimony has never mentioned Esteves, according to the papers.
Amaral remains in jail, the court's press office said.
The investigation didn't find sealed documents Esteves was allegedly holding regarding Cervero's proposed plea deal, in which Cervero would detail Esteves's role in an alleged kickback scheme, Judge Teori Zavascki wrote in his ruling Thursday. Documents and videos presented by Esteves's lawyers showed he was working at BTG's Sao Paulo headquarters at the time of a Nov. 19 meeting other investigators said he attended, the judge said.
A BTG press official said the bank won't comment.
Market Plunge
BTG Pactual has lost about half its market value since Esteves's arrest on concern financing sources for the bank would dry up. To boost liquidity and calm investors, BTG put assets up for sale, including a 2.38 billion-real ($598 million) stake in hospital chain Rede D'Or Sao Luiz SA and a portfolio of loans. It secured a credit line of 6 billion reais from the nation's privately sponsored deposit-guarantee fund.
Federal prosecutors told Judge Zavascki that BTG is under investigation by Brazil's audit court, known as TCU, for "irregularities" tied to the acquisition of a stake in Petrobras's assets in Africa, according to the judge's ruling. A former Petrobras executive testified that Esteves and his partners at Derivados do Brasil paid bribes to rebrand the gas-station chain, prosecutors told the judge.
Esteves wasn't charged in connection with any of those allegations, denied wrongdoing and voluntarily testified regarding the matter, his lawyers said. BTG made the best offer for Petrobras's Africa's assets, which was why it won the bidding, the lawyers said, pointing out that the purchase was made under the supervision of Petrobras's former CEO, Maria das Gracas Foster, who has never been accused of involvement in the Carwash scandal.
Before it's here, it's on the Bloomberg Terminal.
LEARN MORE