BlackBerry Pushes to Extend Software to Self-Driving Cars
by
Company to showcase new technologies at CES fair in January

Partnership with Luxoft uses QNX for semi-autonomous driving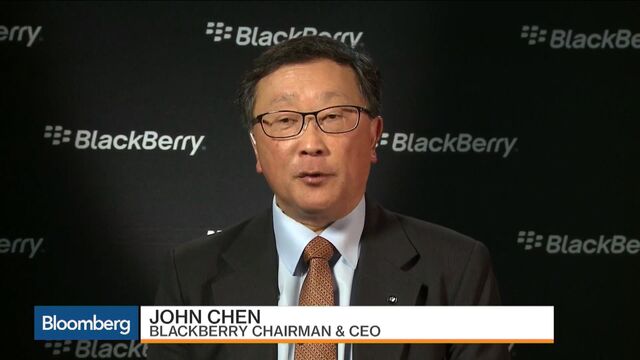 BlackBerry Ltd. is getting into self-driving cars.
The Canadian software and smartphone company will showcase new advances being made by its infotainment unit at the Computer Electronics Show, a premier gathering of the tech world in January in Las Vegas, Chief Executive Officer John Chen said Friday.
"You're going to see our advanced driver-assist technologies and solutions," Chen said on a conference call with analysts to discuss earnings results.
BlackBerry is already involved with the auto industry through its QNX unit, which makes infotainment systems used in millions of vehicles. The Waterloo, Canada-based company said earlier this week it was joining with Luxoft Holding Inc. to work on semi-autonomous driving technology like that used by Tesla Motors Inc.'s cars.
Chen said he'd be keen to work with bigger companies like Google, Apple Inc. and Tesla as well.
"Our software platform actually works with the Apple car strategy as well as Google. I would love to be able to work with Tesla," Chen said in an interview with Emily Chang on Bloomberg TV. "Our software is currently in 60 million cars running around, so it's obvious, natural for us to step into the next generation of automobiles."
The QNX software is now used by manufacturers like Ford Motor Co. to power in-car entertainment systems. Chen, who has shifted BlackBerry's focus to security software as its smartphone business shrinks, has spoken often about the importance of securing vehicle software as computers take over more functions in cars.
Carmakers have begun incorporating semi-autonomous features in cars like the ability to stay in a lane during turns or sense when the vehicle ahead is stopping and apply the brakes without input from the driver. Zug, Switzerland-based Luxoft will marry its computer vision and object-tracking technology with QNX's operating system, according to the statement earlier this week.
Earlier Friday, BlackBerry reported a narrower third-quarter loss than analysts estimated as software revenue gained, but the number of phones it shipped in the quarter fell to 700,000 from 800,000 in the previous quarter.
Before it's here, it's on the Bloomberg Terminal.
LEARN MORE