BlackBerry Jumps as Software Goal, Handset Profit in Sight
by
Shares increase 10 percent, biggest gain since January 2015

BlackBerry could make devices profitable in next two quarters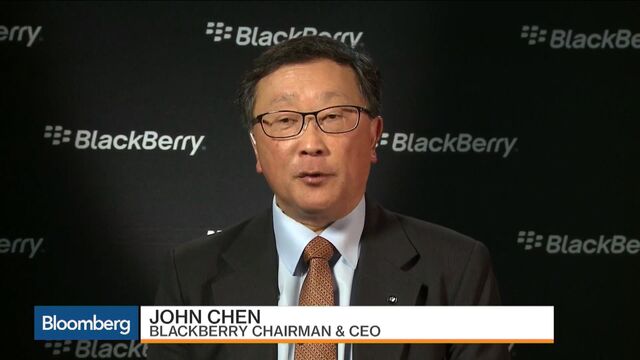 BlackBerry Ltd. gained the most in almost a year after boosting software revenue and saying it will likely pull its struggling handset unit into profitability within the next two quarters.
In its fiscal third quarter, BlackBerry reported a loss excluding certain items of 3 cents a share, beating the average analyst estimate for a loss of 14 cents. Revenue was $557 million compared with projections for $488.8 million, boosted by a jump in software revenue to $161.5 million, up from $54 million in the same quarter last year.
That number nudges the company, based in Waterloo, Ontario, closer to Chief Executive Officer John Chen's goal of $500 million in software revenue by March 2016, a key part of his plan to transition away from dependency on handset sales.
"That's encouraging -- that tells me they're on track to hit their $500 million target," said John Butler, an analyst at Bloomberg Intelligence.
The shares surged 10 percent to $8.61 at the close in New York, their biggest single-day increase since Jan. 14. The stock has declined 22 percent this year.
BlackBerry sold 700,000 phones in the quarter, its lowest shipment number since at least 2007. A combination of cost cuts and getting the new Priv phone into more markets gives BlackBerry a good shot at making the unit profitable in the next two quarters though, Chen said, a key milestone he has pointed to as necessary for staying in the hardware business.

Hardware revenue was $222.8 million, down from a year earlier but up from $201 million last quarter.
"My first goal is to get us into a break-even position with the device business," Chen said. "Maybe next quarter, maybe a quarter later, but we're in that ballpark now."
Once that point is reached, strategic options become available, Chen said. Still, there's a good chance the company will make devices profitable and stay in the business, he said.
BlackBerry needs to sell about 5 million phones a year for the unit to be sustainable, Chen said.
Chen hinted that the company will unveil new software related to self-driving cars at the  Consumer Electronics Show in Las Vegas in January. BlackBerry's QNX unit, which makes infotainment systems used in millions of vehicles, said earlier this week it was partnering with Luxoft Holding Inc. to work on semi-autonomous driving technology like that used by Tesla Motors Inc.

Before it's here, it's on the Bloomberg Terminal.
LEARN MORE