Are the U.K.'s Immigration Statistics Telling the Full Story?
by
National insurance number registrations higher than surveys

Immigration is a sticking point in Cameron's EU negotiations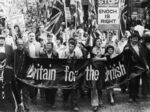 Something is awry with the U.K.'s most hotly debated statistic.
Economists including Jonathan Portes say official figures could be underestimating the true scale of immigration, which is at the heart of Prime Minister David Cameron's attempts to renegotiate Britain's membership of the European Union.
Statisticians base their immigration data on a survey of passengers coming into the U.K. and count only those intending to stay for at least a year. In 2014, there were 118,000 such arrivals from the 15 oldest EU members. In the same year, the government issued almost 217,000 national insurance registrations, permitting migrants from those countries to work in the U.K. The gap, which has widened in recent years, is leading some to question whether immigration is far higher than assumed.

To gain a clearer view, Portes, a research fellow at the National Institute of Economic and Social Research in London, has been urging the government to disclose how many national insurance numbers are still "active," that is the number of foreigners who have decided to stay in the U.K.
In blog postings, he cited a letter from Her Majesty's Revenue and Customs, in which it said releasing the data would be "unhelpful to the negotiation process" being undertaken by Cameron. The U.K. tax authority said Thursday it would release the information when it is properly collated early in the new year.
Hot Topic
The influx of migrants since Poland and other eastern European nations joined the EU in the 2004 has made immigration the key issue as Cameron seeks to renegotiate Britain's relationship with the EU before holding a stay-or-leave referendum by the end of 2017. Net migration soared to a record 336,000 in the 12 months through June, far more than the "tens of thousands" target set by Cameron when he took office in 2010.
In Brussels this week, Cameron has been pressing his case to curb migration by denying in-work benefits, child welfare payments and social housing to EU migrants until they have lived in Britain for four years. Some member states say the proposal amounts to discrimination.
Migration statistics are also used to assess spare capacity in the labor market. Higher levels of immigration mean the economy has more potential to grow without fueling inflation, with implications for the economy and the public finances.
How Much?
"The number of National Insurance numbers issued to people will always be larger than the number of those people who remain in the U.K. -- the key question here is 'how much bigger'?," said Carlos Vargas-Silva, a researcher at the Migration Observatory at the University of Oxford. "Not knowing how many of these NINos are 'active' prevents us from understanding the discrepancy between people who applied for one of these numbers but did not stay, and those that remained here -- it may be a few hundred or several thousand."
Former Bank of England Deputy Governor Charlie Bean is conducting a review of U.K. official statistics. One of his main recommendations is for the Office for National Statistics to make better use of administrative data, a need demonstrated by the discrepancy in immigration figures.
"One of the consequences of having more data published is you tend to notice when they don't always tell exactly the same story," said John Salt, a professor at University College London's Migration Research Unit.
(
Clarifies attribution of comments in fifth paragraph.
)
Before it's here, it's on the Bloomberg Terminal.
LEARN MORE