Amherst Jeopardizes Slot in Bond Club More Elite Than Ivy League
by
With rating on watch, college may leave the few with AAA grade

Debt has grown as Amherst moves ahead with campus expansion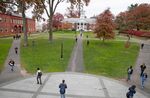 One of the most prestigious U.S. colleges is having a hard time keeping its grades up on Wall Street.
The culprit at Amherst College, the alma mater of former U.S. President Calvin Coolidge, Prince Albert of Monaco and Nobel Prize-winning economist Joseph Stiglitz, is the borrowing spree for a $330 million expansion. The rising debt is jeopardizing the 194-year-old school's AAA rating from Moody's Investors Service, a designation awarded to just four other liberal-arts schools, a more elite club than the Ivy League.
With a $2.2 billion endowment -- about $1.2 million for every one of its 1,785 students -- the college isn't worried about a looming downgrade.
"We're not about protecting a rating, we're about putting our financial assets to use," Kevin Weinman, Amherst's chief financial officer, said in an interview. "It's not something we worry about at all."
The school, some 93 miles (149 kilometers) west of Boston in the Massachusetts town of the same name, is part of building boom on campuses nationwide, as even schools that reject applicants in droves invest in new labs, dorms and classrooms to maintain their draw. With endowments flush from a stock-market bull run and borrowing costs in the $3.7 trillion municipal market near five-decade lows, U.S. colleges sold at least $30 billion of bonds this year, up from about $16 billion in 2014, according to data compiled by Bloomberg.

Amherst joined in this month, when it sold $150 million of 30-year taxable bonds for yields of 4.1 percent, about 1.1 percentage point more than benchmark debt, according to data compiled by Bloomberg. That gap, a measure of the risk perceived by investors, was up from about 1 percentage point when it sold securities in 2012.
This month's sale was the final piece of financing for Amherst's expansion, dubbed the Greenway Project, said Weinman. It includes a 230,000 square-foot science center, four new residence halls and a redeveloped landscape running through campus.
The project hasn't been without missteps. After breaking ground on the science center in 2010, the location was found too difficult to build upon because of vibrations from nearby train tracks and the ground's steep slope. It had to be moved to where two dorms already were, expanding the scope of the project. The premature start alone cost the university $20 million.
AAA Rating Lost
The increase in Amherst's debt has also given credit-rating companies pause. Standard & Poor's downgraded Amherst to AA+ from AAA in 2012. This month, Moody's Investors Service placed its AAA rating on negative outlook, saying that the ranking could be cut if debt levels swell, liquidity is diminished or the project suffers further setbacks.
Weinman said the school is already anticipating that some of the the debt will be paid off early, once it completes a fundraising drive expected to raise $80 million or more. If all goes as planned, the school's long-term debt will be reduced to about $425 million by 2020 from its current $537 million.
"Of course, we're free and clear not to do that, so the rating agencies need to give us a rating as if we weren't," said Weinman.
Top credit ratings for small schools like Amherst are a rarity. S&P, which rates 282 nonprofit higher-education institutions, has given an AAA rank to just three liberal-arts schools - Grinnell, Pomona and Swarthmore. Aside from Amherst, Moody's deems only four comparable schools worthy of its highest rating: Berea, Grinnell, Pomona and Swarthmore.
"These schools really only have one program and that's undergraduate education," said New York-based Carolyn McLean, a director at Standard & Poor's. "Because of that it's tougher for a liberal arts school to be AAA than it is for a major university like Harvard, M.I.T. or Columbia."
Some small schools without vast endowments are finding it difficult to compete, with tuition revenue for many declining as the pool of graduating high-school seniors shrinks and students balk at taking on costly loans. Moody's estimates that the pace of small college closures will triple to 15 a year by 2017.

Amherst, as one of the most competitive U.S. colleges, is spared such worry. It's ranked the second-best liberal-arts school by U.S. News & World Report behind Williams College. A full-year's tuition, room and board costs $62,940, about $9,500 more than the country's median household income. That doesn't seem to be a deterrent: It received 8,568 applications for this year, the most in the school's history. A lucky 14 percent were accepted.
The even luckier few will get assigned to one of the new dorms. They're scheduled to open next year.
Before it's here, it's on the Bloomberg Terminal.
LEARN MORE