`Star Wars' Breaks Thursday Record With $57 Million in Sales
by
Global total reaches $130 million for new space thriller

Shares decline as analyst cuts to sell on troubles at ESPN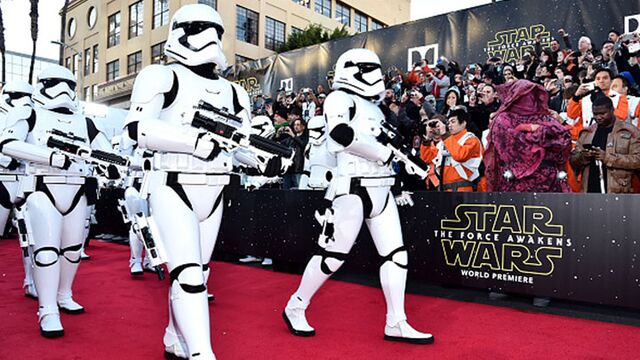 "Star Wars: The Force Awakens" took in an estimated $57 million in Thursday evening ticket sales in North America, Walt Disney Co. said, breaking the four-year-old record set by a "Harry Potter" film.
Along with sales from international markets, where showings began Wednesday, the film has taken in almost $130 million worldwide, Disney said in a statement. Screenings of "The Force Awakens" started Thursday night in theaters across the U.S. and Canada. The previous record for such previews was the $43.5 million set by "Harry Potter and the Deathly Hallows Part 2" in 2011, according to data from Rentrak Corp.
Disney investors were on edge after Wednesday ticket sales came in at $14 million from a dozen international markets, reflecting the high stakes for the company. The world's largest entertainment company has five more films planned, along with costly theme-park projects tied to the "Star Wars" franchise. BTIG Research analyst Rich Greenfield cut his rating on the stock Friday to sell, saying "Star Wars" profits won't offset larger troubles Disney faces from shrinking subscribers at its ESPN sports network.
"Disney management made a fundamental mistake by overpaying for sports rights based on overly aggressive multichannel video subscriber projections," Greenfield said in a note.

Disney fell 3.8 percent to $107.72 at the close in New York, on a day when the wider market was also down sharply. The stock has gained 14 percent this year.
"Star Wars" is opening in 4,134 theaters in the U.S. and Canada, a record number for a film opening in December, Disney said. It is widely expected to break records in its North American opening weekend and through its domestic run. It may become the first movie to surpass $100 million in domestic ticket sales in one day, according to estimates from Bloomberg Intelligence.
The film is now playing in 32 international markets, opening at No. 1 one in each of them and taking in a total of $72.7 million overseas in a two-day period, Disney said.

Before it's here, it's on the Bloomberg Terminal.
LEARN MORE