VW Picks Development Chief as Revamped Management Ranks Shape Up
by
CEO's direct reports reduced to 19 people from more than 30

Executive structure includes new heads of sales, production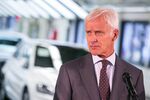 Volkswagen AG Chief Executive Officer Matthias Mueller is pushing ahead with a management revamp, including a group research and development post, in an attempt to prune bloated corporate structures in the wake of an emissions-manipulation scandal.
Ulrich Eichhorn, whose career includes stints at Ford Motor Co. and VW's Bentley unit, will take over responsibility for research and development in the first quarter of 2016, Volkswagen said Thursday in a statement. Eichhorn, 54, will join the company from the German auto-industry association VDA, where he's been managing director since 2012. Volkswagen also appointed new group-level sales, design and production managers.
"These structural changes speed up the decision-making process, reduce complexity and increase efficiency," Mueller said in the statement. "The team in the CEO's area of responsibility is almost complete, with excellent colleagues from within and outside the group taking up the new posts."
Mueller has cut the number of his direct reports to 19 people from more than 30 under predecessor Martin Winterkorn, who was forced out when large-scale engine rigging to dupe emissions tests came to light in September. Wolfsburg, Germany-based Volkswagen is slowly emerging from the crisis, saying Wednesday that it has regulatory approval for a plan to fix 8.5 million vehicles in Europe. While that accounts for the bulk of the 11 million vehicles affected worldwide, the company has yet to reach an agreement with regulators on terms for a recall in the U.S., where it faces hundreds of related lawsuits.
Sales Chief
Fred Kappler, 57, will become head of sales following a career at the carmaker stretching back to 1982, Volkswagen also said Thursday. Unlike Christian Klingler, his predecessor, Kappler won't be part of VW's management board. Michael Mauer, 53, will oversee design across the group in addition to his current role at the company's Porsche sports-car marque. Mauer started his career at Mercedes-Benz and worked at General Motors Co.'s European unit before joining Porsche in 2004.
Wolfram Thomas, 59, was appointed head of Volkswagen's group production and Gerhard Willner, 54, was named manager in charge of product and modular-technology strategy.
Before it's here, it's on the Bloomberg Terminal.
LEARN MORE