U.K.'s Osborne Has More Aides Than Next Three Ministers Combined
by
Chancellor has 10 advisers on economics and personal image

Woman behind Osborne's make-over gets 42 percent raise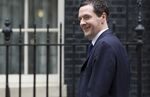 U.K. Chancellor of the Exchequer George Osborne marked his Conservative Party's general election victory in May by appointing three additional political aides -- and giving the woman behind his new image a 42 percent pay increase.
Osborne now employs 10 political staff -- more than the foreign, home and defense secretaries combined. He is second only to Prime Minister David Cameron in terms of personally-appointed advisers. Cabinet ministers usually have a maximum of two to supplement the non-political civil service.
A key figure in Osborne's campaign to replace Cameron is former BBC journalist Thea Rogers, who steered him to a new "Caesar" haircut, put him on the 5:2 diet, and guided the hardhat offensive that has seen him photographed on building sites all over the country. She has been promoted to chief of staff and her salary increased to 98,000 pounds ($146,000) a year, a raise of 28,750 pounds.
The pay of Tory political aides has gone up as well. The average annual compensation of so-called Special Advisers has gone up 1.8 percent to 87,500 pounds, compared to 85,981 pounds under the coalition government in power until May.
The announcement was one of more than 380 by the government on the final day Parliament is sitting before rising for Christmas. That compares with 148 a week earlier. Four of Osborne's 10 staff were revealed only in the footnotes of the document.
Another document showed that the Chancellor spent 11,000 pounds taking Royal Air Force planes to meetings in Europe and Turkey between July and September, and a further 10,000 pounds chartering a plane to China.
Before it's here, it's on the Bloomberg Terminal.
LEARN MORE