Telus, Rogers Dive as Shaw-Wind Deal Upsets Canada Big Three
by
Shaw's $1.2 billion deal for Wind set to boost competition

Bundling of internet, TV and wireless key part of purchase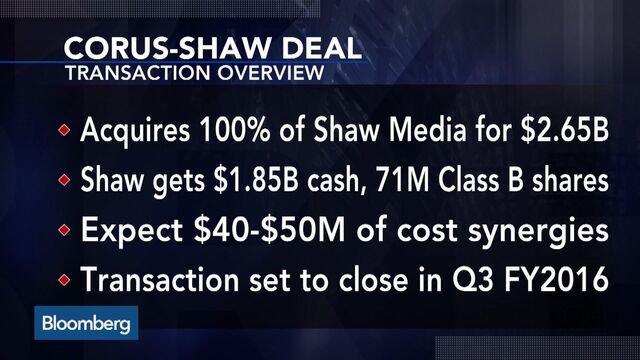 Canadian wireless companies tumbled as investors bet Shaw Communications Inc. has what it takes to turn upstart Wind Mobile Corp. into a legitimate competitor to companies that have dominated the country's airwaves for years.
Shaw, a cable TV company that operates mainly in Western Canada, announced a surprise deal to buy Wind for C$1.6 billion ($1.2 billion) including debt, late Wednesday. The purchase gives Calgary-based Shaw 940,000 customers in urban centers in British Columbia, Alberta and Ontario, creating a stronger rival to incumbents Telus Corp., Rogers Communications Inc. and BCE Inc.
"You have a situation right now where you've got a more financially stable owner," David Heger, an analyst with Edward Jones & Co. in St. Louis, said by phone. "Wind's going to be around for the long run."
Telus, whose home turf is also in the West and likely to face the most competitive heat, fell 6.7 percent to C$37.92 at 4 p.m. in Toronto, the most since June 2013. Rogers fell 5.6 percent to C$47.45, the most in more than two years, and BCE decreased 2.4 percent to C$53.52. Calgary-based Shaw fell 7.7 percent to C$24.90, the most in 11 years. Smaller rival Manitoba Telecom Services Inc., considered by some analysts a takeover target, rose 2.1 percent.
Mobile Future
The deal targets the growing number of Canadian consumers are increasingly turning to mobile devices for entertainment and information. Wind, owned by private-equity firms, has increased its customer base by 47 percent over the past two years. It remains well behind the country's three dominant players which still control 90 percent of subscribers.
Canada's government pushed for years to increase competition by supporting a fourth national carrier. It gave new entrants like Wind special prices for wireless spectrum and changed regulation to make it cheaper for the company's customers to roam on competitors' networks.
Adding a wireless service will allow Shaw to match Vancouver-based Telus's bundled wireless, Internet and TV offerings in the West.
"Telus has been able to compete against Shaw by having this extra wireless asset and levering some of the margins that come with that," Wind Chief Executive Officer Alek Krstajic said in an interview with Pamela Ritchie on Bloomberg TV Canada, wearing a blue Shaw windbreaker. He will continue to run the carrier after the acquisition. "Shaw will now be on a more of an equal footing to compete with Telus."
Welcome Competition
Krstajic compared the deal to Telus's acquisition of Clearnet in 2000, which allowed the home phone provider to leap into the wireless market and eventually become one of the country's primary players.
"We look forward to competing with Shaw in the wireless market," Telus Chief Financial Officer John Gossling said in an e-mailed statement. Telus's high ratings on customer service, national reach and presence in other sectors like health-care technology will help keep it differentiated, he said.
"Bell's always ready to compete, our network leadership makes us a top competitor in any wireless marketplace nationally," Mark Langton, a spokesman for Montreal-based BCE said in an e-mail.
A representative for Toronto-based Rogers didn't return a request for comment.
Build Out
Wind is forecast to generate C$485 million in 2015 revenue and C$65 million in earnings before interest, taxes and amortization, Shaw said in a statement on Wednesday. Shaw will focus on following through with Wind's plan to upgrade its network by spending C$250 million over the next two years, Chief Financial Officer Vito Culmone said on a conference call.
Once that build-out is complete, Wind is expected to be cash-flow positive, he said.
Under Shaw's control, Wind is more likely to expand its presence to smaller communities in Western Canada where Shaw already has a strong presence, Krstajic said.
"Victoria is a place that has a sizable population and it's just a natural fit for where Wind should be expanding into and Shaw has a big footprint there," he said. "That's a great example of the synergies I think that will come out of this deal."
Big Winners
Shaw plummeted too, falling the most intraday since 2008, as investors questioned Wind's ability to produce positive cash flow and the price paid, Greg MacDonald, a Toronto-based analyst with Macquarie Group Ltd., said in a note to clients. Some investors had also placed a premium on Shaw because of speculation Rogers could buy it, he said.
Standard & Poor's put Shaw on credit watch and said it could downgrade the company's rating below investment grade. "The company has not detailed its financing plans, but we assume that the acquisition will be substantially debt- and cash-financed," the ratings company said in a note. Shaw is rated BBB-, the lowest investment-grade level.
West Face Capital Inc. and other funds stand to make about a sixfold return on their investment last year in Wind, according to people familiar with the matter. The group, known as Mid-Bowline Group Corp., includes Tennenbaum Capital Partners, the family office of Lawrence Guffey, and Wind founder Anthony Lacavera's Globalive Capital.
Before it's here, it's on the Bloomberg Terminal.
LEARN MORE