Support for Swedish Ruling Bloc Plunges Amid Refugee Crisis
by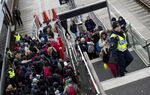 Europe's worst refugee crisis since World War II has plunged support for Sweden's Social Democrat-led bloc to its lowest level in more than two decades. 
The governing coalition of Social Democrats and Greens has the joint backing of just 30 percent of the electorate, down from 34.3 percent in November, according to a poll published by Dagens Nyheter and Ipsos just hours before parliament agreed to introduce temporary ID checks on its borders.
Together with the Left Party, which supports the minority government in parliament, backing for the ruling bloc has fallen to 37.3 percent, the lowest level since 1991. Ipsos estimates its loss in support since the September 2014 election at 500,000 votes.
The government on Thursday had to rely on the backing of the Sweden Democrats, an anti-immigration party in opposition, to get parliament's approval for a law allowing the government to introduce identification controls on buses, trains and ferries. The checks will be in place as of January 4 and will last for up to six months.
"These are not fun decisions to make, but we haven't been given the responsibility to be in Sweden's parliament because it's fun," Infrastructure Minister Anna Johansson told lawmakers while the bill was being debated.
Sweden, which prided itself on one of the most generous asylum policies in Europe, has struggled to cope with an unprecedented influx of refugees fleeing the conflict in Syria and elsewhere in the Middle East.
The number of asylum applications in the Nordic country of 9.8 million people is expected to climb to as much as 170,000 by the end of the year, according to the country's migration agency.
The record numbers have forced the government to tighten its policy, provoking tension within the ruling parties and a backlash among voters.
The xenophobic Sweden Democrats are now polling at 18.9 percent, the highest level noted in an Ipsos poll, compared with 17.2 percent in November.
Before it's here, it's on the Bloomberg Terminal.
LEARN MORE