Putin Says He's Not Convinced Russia Needs Syrian Military Base
by and
Airstrikes in Syria to continue as long as needed, Putin says

Russia supports U.S. draft UN resolution on Syria, Putin says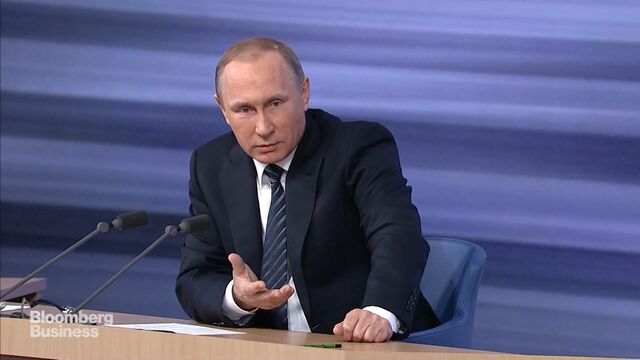 President Vladimir Putin said he's not sure Russia needs a military base in Syria as he called for a resolution of the Middle Eastern country's civil war.
Some advisers argue that Russia should have a permanent base in Syria, though "I'm not convinced," Putin told journalists Thursday at his annual news conference in Moscow. "Why should we have to keep everything there under control?"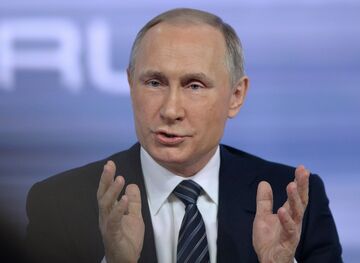 Russia, which has a naval facility at the Syrian port of Tartus, established an airbase in Syria's Latakia to conduct bombing missions that began Sept. 30 in support of President Bashar al-Assad against Islamic State and other militant groups. The U.S., which is leading a coalition bombing Islamic State, has said the Kremlin is mainly attacking other groups opposed to Assad, including some supported by the administration in Washington.
The airstrikes will go on for as long as necessary and Russia's operations in Syria aren't a major burden on the state budget, Putin said. The Kremlin supports a draft U.S. resolution at the United Nations for resolving the Syrian crisis, which is close to Russia's own proposals, he said.
Russia will do all it can to bring the Syrian civil war to an end, Putin said. The U.S. and Russia will take part in international negotiations in New York on Friday to try to reach agreement on ending the Syrian conflict, after Putin and U.S. Secretary of State John Kerry held more than three hours of talks on the crisis in Moscow on Tuesday.
Before it's here, it's on the Bloomberg Terminal.
LEARN MORE