Online Poll Puts U.K. Campaign to Leave EU Into the Lead
By
Nearly a third of voters undecided or persuadable, poll finds

Results contrast with phone polls putting `remain' ahead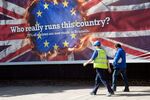 An online poll suggested British voters are more inclined to vote to leave the European Union than to remain inside it -- with up to a third still to make up their minds.
QuickTake Will Britain Leave the EU?
The survey, sponsored by former Conservative lawmaker Michael Ashcroft, was published the day after two telephone polls gave the opposite result, with those saying they wanted to stay in the 28-nation bloc ahead by as many as 21 percentage points.
The widely divergent polls further complicate Prime Minister David Cameron's mission as he travels to Brussels on Thursday to make the case for changing Britain's relationship with the EU ahead of an in-out referendum he's pledged to hold by the end of 2017. He's likely to face resistance over one of his central voter-pleasing requests, to restrict welfare payments to EU migrants for four years.
The online poll of 20,054 voters asked them to state how they were likely to vote in the referendum on a scale of 0 to 100, where 0 meant they would definitely vote to stay in, and 100 meant they would definitely vote to leave. That found that 33 percent replied with 39 or below, suggesting they were inclined to stay in, and 39 percent answered with 61 or above, suggesting they were inclined to vote to leave. It also left 27 percent in the middle. In answer to a separate question, 32 percent said they "could easily be persuaded" to change their minds.
The poll contrasts with two telephone polls published Wednesday, which found leads of 21 and 17 percentage points for staying in the EU. One of the polling companies involved, ComRes Ltd, published a note saying that it was finding telephone polls showed voters in favor of remaining in the EU, while online polls showed voters were tied. It suggested online respondents might be more politically engaged and hence the sample was not as representative as phone polls.
British polling companies are currently undergoing a year-long inquiry into why they all failed to predict the result of May's general election.