KaloBios Plunges 50 Percent After CEO Martin Shkreli's Arrest
by and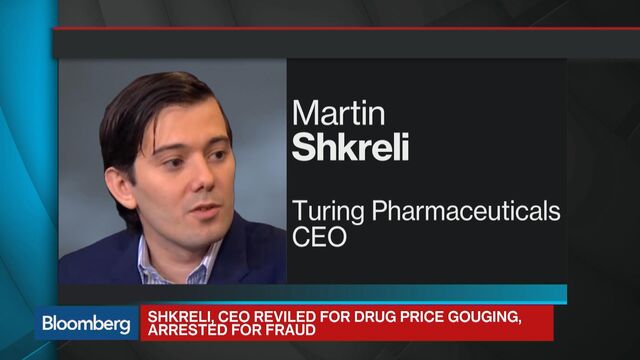 KaloBios Pharmaceuticals Inc. shares lost more than half their value before trading was halted following the arrest Thursday of Chief Executive Officer Martin Shkreli on securities fraud charges related to one of his prior companies.
Shkreli bought a majority interest in KaloBios last month and named himself CEO. The company's stock was trading at less than $1 before he made the move, and it subsequently rose to as high as $39.50, giving the company a market value of more than $100 million.
KaloBios shares fell 53 percent to $11.03 in New York before the market opened. Nasdaq Inc. said trading in the stock was halted as of 6:48 a.m., and won't resume until the company gives the stock exchange information that it's requested.
Nasdaq didn't say what information it asked for. Edward Painter, a spokesman for KaloBios and Turing, didn't respond to a call and e-mail seeking comment.
Prosecutors have charged Shkreli with illegally taking stock from Retrophin Inc., a biotechnology firm he started in 2011, and using it to pay off debts from unrelated business dealings. He was later ousted from the company, where he'd been chief executive officer, and sued by its board. Shkreli has previously denied any wrongdoing related to the matter.
Retrophin fell less than 1 percent to $21.17 at 10:57 a.m. in New York. Turing is closely held.
Before it's here, it's on the Bloomberg Terminal.
LEARN MORE