It's Not So Merry for Japan's Workers
Corporate scrooges threaten the success of Abenomics.
By and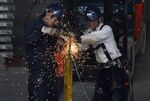 Shinichiro Takano, a manager at Suzuki Group, a construction company based in Tokyo, is looking for a few good scaffolders. He's not alone: Across Japan, there are seven scaffolding job openings for every applicant, according to labor ministry data. That might have prompted Suzuki to offer higher salaries, yet the company is reluctant to increase wages because of its gloomy view of the future. Though the 2020 Olympic Games in Tokyo may create some opportunities, the outlook for construction in a country with an aging population and a heavily indebted government is dim. "Our wages won't go up unless the society improves," says Takano.
By many measures Japanese employers are doing just fine. Corporate earnings are strong, oil prices are low, and many companies are sitting on big cash reserves. The success of Abenomics—Prime Minister Shinzo Abe's program to revive Japan's economy—depends in part on consumers' willingness to spend more. Tightfisted companies such as Suzuki aren't helping.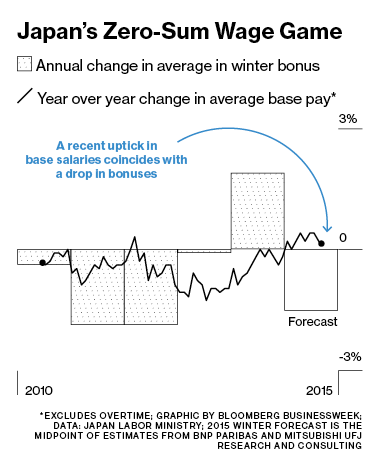 On Dec. 8 the government reported that annualized gross domestic product grew 1 percent in the three months ended Sept. 30 from the previous quarter, a big improvement on earlier data that showed an 0.8 percent contraction. "The trickle down from corporate profits to household spending is gummed up," says Izumi Devalier, an economist at HSBC in Hong Kong.
Summer bonuses were 2.8 percent lower than last year and employees are in for more disappointment this winter. Compared with last year, the December payouts will be 1 percent smaller, estimates BNP Paribas. Mitsubishi UFJ Research and Consulting is even more downbeat, projecting a 2.1 percent decline.
Base pay excluding overtime has risen for eight consecutive months. But the increases are small, amounting to just 0.1 percent in both September and October, and are canceled out by the reduction in bonuses. "Companies gave with one hand what they took with another," says Devalier, who estimates private consumption dropped 0.8 percent in 2015, after declining 0.9 percent last year.
To stimulate consumer spending, Abe wants to raise Japan's minimum wage, which averages 798 yen ($6.52) an hour nationally. That barely buys a bowl of ramen and is the lowest among the Group of Seven countries, excluding Italy, which doesn't have a minimum wage. The prime minister said last month that he wants a 3 percent hike, which Bloomberg economist Yuki Masujima says is double the average annual increase from 1993 to 2013.
Only 1.9 million Japanese worked for the minimum wage in the fiscal year that ended Mar. 31, according to the government. Still, Abe is hoping that raising the minimum will exert upward pressure on other tiers of the pay scale. "They're throwing the kitchen sink at this," says Christian de Guzman, a senior analyst with Moody's Investors Service. The administration's thinking is, " 'We need higher wages, and this is something we can do,' " says De Guzman.
Abe's not getting much help from organized labor. While Finance Minister Taro Aso has said unions should demand increases of as much as 4 percent in upcoming salary negotiations, the Japanese Trade Union Confederation is seeking just 2 percent or so. Given the shakiness of the economy, small and midsize employers would reject more ambitious goals, confederation President Rikio Kozu says: "If I were running the company, I'd say, 'This can't apply to us.' "
—With Kyoko Shimodoi and Toru Fujioka
The bottom line: Private consumption is poised to fall for a second year, as reductions in bonuses offset modest wage rises.
Before it's here, it's on the Bloomberg Terminal.
LEARN MORE