Islamic State's Money Is the Target of Finance Ministers at UN
by and
Russia and U.S. propose resolution to cut off terror financing

The extremist group funds itself with oil sales and extortion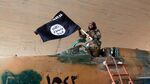 In the first meeting of its kind, top finance ministers will preside over a United Nations Security Council vote to dismantle the financial network of Islamic State and choke off the extremist group's access to money from oil and looting.
The presence of Treasury Secretary Jacob Lew as chair, flanked by his British and French counterparts, lends urgency to a resolution co-authored by the U.S. and Russia to tackle the revenue stream of a terrorist group that has extended its territorial reach beyond Syria and Iraq with recent deadly attacks on Beirut and Paris. A UN report estimated that Islamic State was earning as much as $1.7 million a day from crude sales.
This latest push builds on an existing package of measures threatening economic sanctions against countries, financial institutions and individuals that help terrorists profit from trading oil, antiquities or hostages. The resolution to be adopted Thursday will revamp the existing Al-Qaeda sanctions committee to elevate Islamic State as a priority.
Joining Forces
Russia, the U.S. and its Western allies are conducting air strikes on Syria, where Islamic State has taken root, and are inching toward closer military collaboration in the wake of the Paris massacre in November. Closing in on how the self-proclaimed caliphate is able to exploit money transfer systems is now also coming under renewed scrutiny.
"There is merit to the concern and the critique that financial regulators and institutions don't have an excellent handle on all the ways that Islamic State affiliated people are using the international financial system," said Elizabeth Rosenberg, senior fellow at the Center for a New American Security who served as a senior adviser to the U.S. as undersecretary for terrorism and financial intelligence 2009-2013. "This effort brings another level of focus at the formal and informal value transfer systems at risk."
If adopted, the resolution will require countries to "move vigorously and decisively to cut the flows of funds and other financial assets and economic resources to individuals and entities" on the sanctions list.
Information Sharing
"What we'll be doing is elevating ISIL, putting it on that same level, and turning those tools and that same experience that we've built up internationally against ISIL," Adam Szubin, acting undersecretary for terrorism and financial intelligence, said on Wednesday, referring to the Islamic State by an acronym of one of its names. "We're going to be calling on countries to expand and intensify information sharing, both across governments, within governments and with the private sector."
French Finance Minister Michel Sapin said he will with his European and American partners finds ways to establish global standards and rules for better regulating anonymous money transfer systems, such as the pre-paid cards, money remittances and bitcoin.
"Technological advances are great but not at the expense of security," Sapin told reporters earlier on Thursday in New York.
While Islamic State is able to generate significant amount of revenue through extortion and smuggling of oil and artifacts within the territory it controls, it is "not entirely self-reliant," Treasury's Szubin said.
Secure Borders
It is important to secure borders with Islamic State-controlled territory, and the Obama administration has done "a lot of bilateral jawboning" to make sure that countries actually adhere to their commitments to defeat the Islamist group, Szubin said.
However, the new UN resolution would not penalize governments who don't. According to France's Sapin, the Financial Action Task Force will instead produce a list to name and shame those not doing their part.
"ISIL are able to access banks outside their areas of control in Syria and Iraq, primarily through Turkey," Matthew Levitt, director of counter terrorism program at the Washington Institute for Near East. "The Security Council needs a combination of carrot and stick to get countries like Turkey to be tougher."
Russian President Vladimir Putin has been the most vocal demanding consequences for Turkish president Recep Tayyip Erdogan. Putin accuses Erdogan's government of being the main consumer of oil from Islamic State. Relations between the two countries have deteriorated dramatically after Turkey shot down a Russian bomber last month.
The UN resolution will tighten regulations for Turkey to be more transparent about information it has about the terrorist group, Russian Ambassador to the UN Vitaly Churkin told RIA Novosti news agency earlier this week.
Before it's here, it's on the Bloomberg Terminal.
LEARN MORE