In Defeat, Le Pen May Upend French Reform
The government may tack left as it sets its sights on the 2017 vote.
By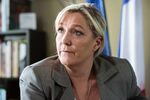 The National Front failed to gain control of any French region in elections on Dec. 13, yet even in defeat the anti-immigrant party could have an outsize influence over economic policy in the next few years. Stunned that the National Front got 6.8 million votes—exceeding its previous record of 6.4 million, set in 2012—mainstream parties are calling for urgent action to overcome the economic malaise that's fueling public discontent. "There is no place for relief or triumphalism," Socialist Prime Minister Manuel Valls said in a televised address on the evening of the vote. The government must "act more rapidly, to get more results," he said. "This is our last chance," said Xavier Bertrand, the center-right Republican who drew crossover Socialist support to defeat National Front leader Marine Le Pen in northern France.
Market-friendly Socialists such as Valls and Minister of Economy Emmanuel Macron have been in broad agreement with Republicans on key reforms to reduce France's near-record 10.6 percent unemployment rate and boost growth and competitiveness. Their prescriptions include loosening labor rules to make it easier for employers to hire and fire, and nudging the long-term jobless off the dole by trimming their benefits. President François Hollande's cabinet has been preparing for months to bring those and other measures to a parliamentary vote next year, a senior government official tells Bloomberg Businessweek.
The National Front's momentum could derail those plans. Presidential and parliamentary elections are set for mid-2017. All parties face off in a first round of voting, with the top two moving to a second round. It now appears that Le Pen and her Front are strong enough to advance to the runoff, says Bruno Cavalier, chief economist at Oddo Securities in Paris. That means there's room only for one other party: either Hollande's Socialists or the Republicans led by former President Nicolas Sarkozy.
To win a place in the runoff, the Socialists must "unify the left," Cavalier says. Within hours of the polls closing, Socialist Party First Secretary Jean-Christophe Cambadélis went on TV urging the party to "move toward the left." That will require making common cause with hard-line leftists who have attempted to obstruct some of the more free-market elements of the government's agenda. Last February, Hollande had to invoke special powers to quell a rebellion by leftist lawmakers, to pass legislation curbing severance pay for laid-off workers and letting more stores open on Sundays.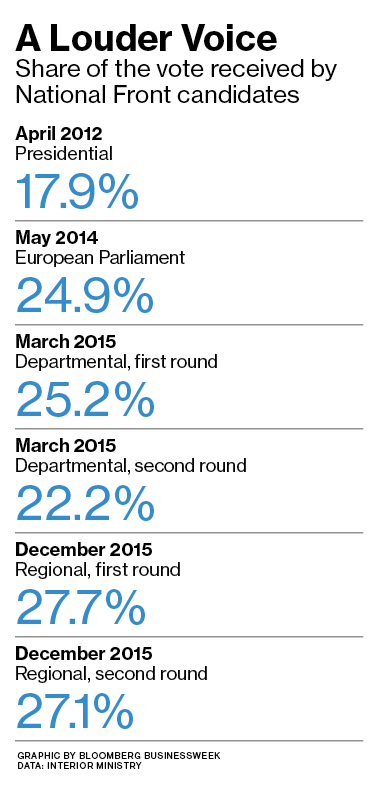 The Republicans, while publicly endorsing reforms, have no incentive to help enact them quickly. If the economy remains stagnant, they can blame the Socialists during the 2017 campaign. And free-market promises would be unlikely to help Republicans lure far-right voters. The National Front's economic platform contains anti-business provisions, including calls for protectionist trade measures, a big increase in the minimum wage, and renationalization of some banks. "It's exactly the opposite of what's needed to restart economic growth," Pierre Gattaz, head of the business lobby group Medef, told the newspaper Le Parisien before the elections.
The economy is showing a few signs of life. The consensus among analysts surveyed by Bloomberg is that growth this year will reach 1.2 percent, the best since 2011, and could accelerate to 1.5 percent in 2016. But unemployment remains stubbornly high, and that clearly played a role in the National Front's electoral showing. The party drew its strongest support in the northern Nord-Pas-de-Calais region, which has the country's highest jobless rate, 12.8 percent, and in the southern Provence-Alpes-Côte d'Azur region, where the rate is 11.5 percent. More-flexible labor rules could help create jobs, but those effects wouldn't likely be felt before the 2017 elections—and in the meantime the National Front could attack the Socialists for weakening protections for workers.
For now, the government is being circumspect about what reforms it will tackle next. Valls told France 2 television on Dec. 14 that the government would unveil "new measures," including a training initiative for the unemployed.
Burdensome work rules and overly generous unemployment benefits are only a few of the problems France urgently needs to address to make its economy more competitive, says Denis Payre, a software entrepreneur and co-founder of pro-business group Croissance Plus. Public spending swelled to 57.7 percent of gross domestic product last year, higher than in any major developed country, while businesses are suffocated by high taxes and regulation, he says.
Payre frets that the mainstream parties, after withstanding the far-right onslaught in the regional elections, may "feel able to manage the risk of the National Front" and won't press ahead with reforms. "I'm not very optimistic in the short term."
—With Mark Deen and Hélène Fouquet
The bottom line: The National Front's record 6.8 million votes may dampen mainstream parties' appetite for labor market reforms.
Before it's here, it's on the Bloomberg Terminal.
LEARN MORE