Beijing Raises Red Alert for Heavy Smog, Some Schools to Close
Huang Zhe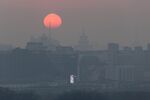 Beijing raised its second red alert for air pollution this month for the period from Saturday through Dec. 22, prompting measures including school closures.
Pollution levels in the cities of Beijing, Tianjin and parts of the neighboring provinces of Hebei and Henan will rise Saturday and may hit "severe" levels on Dec. 22, with concentrations of PM2.5 higher than 500 micrograms per cubic meter in some places, China's National Meteorological Center said on its website.
The forecast pollution will be "slightly" stronger than what Beijing experienced Dec. 6 to 9 when it sounded its first ever red alert, the statement said. Beijing's education commission asked that schools and kindergartens be closed, according to the city's official microblog.
The air quality index in Beijing was 114 as of 7 a.m., indicating "light" pollution, the local environmental monitoring center said. The PM 2.5 reading was 67 micrograms at Tiananmen Square. The World Health Organization recommends no more than daily average exposures of 25 micrograms.
Before it's here, it's on the Bloomberg Terminal.
LEARN MORE