Goldman Sachs Sees `High Risks' of Further Oil Price Slump
by
Reiterates warning that crude could drop to $20 a barrel

Prices may need to move lower to trigger production cuts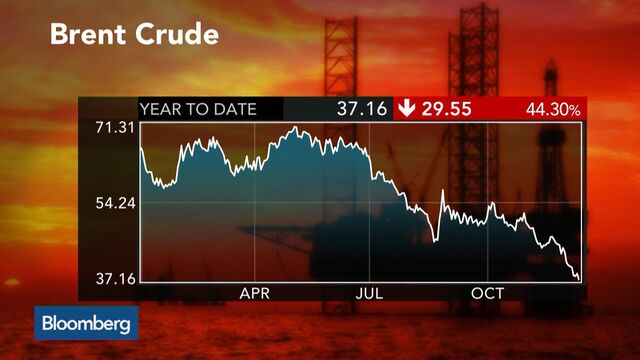 There are "high risks" that oil may fall even lower, with prices of $20 a barrel potentially required before enough production is shut down to rebalance global markets, said Goldman Sachs Group Inc.
West Texas Intermediate crude, the U.S. benchmark, is trading near a seven-year low of about $35, a price that is probably low enough to choke off investment and tame the current surplus by the end of 2016, Goldman Sachs said in a report Thursday. However, there's still a possibility that crude-storage tanks will reach their limit, pushing oil down to levels necessary to force an immediate halt to some production, the bank said.
"We still see high risks that prices may decline further, as storage continues to fill," Damien Courvalin, an analyst in New York, said in the report.
WTI futures settled at $35.52 on Wednesday, the lowest level since February 2009, after U.S. crude inventories surged and the Federal Reserve raised interest rates for the first time in almost a decade. The U.S. benchmark slipped further to $35.20 at 10:30 a.m. London time Thursday.
The Organization of Petroleum Exporting Countries will increase output next year as members try to shore up revenue amid the slump in prices, Goldman predicted.
OPEC output will rise by at least 640,000 barrels a day to 32 million a day in 2016, driven by gains in Iran and the group's other Persian Gulf members, it said. Iran, which is hoping to revive exports as international sanctions are lifted, will bolster supplies by 285,000 barrels a day in 2016, and can tap about 35 million barrels stored on tankers, Goldman said.
Global markets will remain oversupplied by about 580,000 barrels a day next year, and could be even more saturated if U.S. crude production remains resilient, the bank said. The world surplus this quarter is about 1.5 million barrels a day.
Before it's here, it's on the Bloomberg Terminal.
LEARN MORE