Goldman Sachs Is Thinking Small to Target M&A Comeback in Japan
by
Ranking fell to sixth this year as Morgan Stanley topped list

`Clear trend' that smaller Japanese companies seek M&A abroad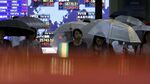 Goldman Sachs Group Inc. cemented its position as the world's premier mergers adviser this year by working on some of the biggest deals. In Japan, it wants to go small.
In addition to advising on larger transactions, local mergers and acquisitions head Yoshihiko Yano says the U.S. firm will work with smaller companies on takeovers abroad to reclaim its top ranking in the country, a position it hasn't held since 2006. The New York-based investment bank is No. 6 this year, the lowest since 2010, data compiled by Bloomberg show.
This year has been the busiest for Japanese cross-border mergers in at least 12 years as companies shrug off a weaker yen in search of growth overseas. Goldman Sachs advised on fewer deals than firms including top-ranked Morgan Stanley and No. 2 Nomura Holdings Inc., underscoring its focus on bigger transactions until now, the data show.
There's a "clear trend" for smaller Japanese companies to join their larger peers in the search for growth abroad, Yano said in an interview in Tokyo. He wants Goldman Sachs to assist such companies because the stakes are often much higher for them, particularly when they're buying similar-sized enterprises and lack experience purchasing assets overseas.
"We want to be top by advising on more challenging deals," he said. "Even if a deal isn't that big, it could be critical for the clients, and we want them to utilize our experience, knowledge and global network." 
Insurance Buyouts
Yano said he doesn't have any immediate plans to add bankers, although the firm will increase graduate hiring.
The investment bank will seek to advise companies with a market value of 100 billion yen ($820 million) to 200 billion yen, he said. There were 14 cross-border acquisitions valued within that range involving Japanese companies this year, the most since 2012, data compiled by Bloomberg show.
Goldman Sachs handled transactions with an average value of $1.9 billion this year, the highest among the top six advisers, according to the data. The firm worked on four large insurance buyouts, including Tokio Marine Holdings Inc.'s $7.5 billion acquisition of Houston, Texas-based HCC Insurance Holdings Inc., Japan's biggest overseas takeover of 2015. It also advised Pearson Plc on its $1.3 billion sale of Financial Times Group Ltd. to Nikkei Inc.

More than 1,000 Japanese companies were involved in cross-border mergers and acquisitions in 2015, the most since at least 2003, the data show. The value of such deals climbed 49 percent from a year earlier to $112 billion, the highest since 2012.
"Overseas is the only place where Japanese companies can nourish their appetite for growth because the population at home is shrinking," said Yano, who's been in charge of M&A at Goldman Sachs in Japan for about 13 years. Smaller companies tend to pay competitive advisory fees as long as the deals achieve "incremental value creation," he added.
Goldman Sachs's rank among Japanese mergers advisers this year slipped from fifth in 2014 and third in 2013, the data show.
The U.S. bank plans to increase graduate hiring by 35 percent for the year starting April in Japan, Hiroko Matsumoto, a Tokyo-based spokeswoman, said by phone, declining to comment on the number.
Yano joined Goldman Sachs in 1998 after graduating from Waseda University and Columbia Law School. Before joining the bank, he worked as an attorney at Nishimura & Partners, a Japanese law firm, and Shearman & Sterling LLP in New York.
Before it's here, it's on the Bloomberg Terminal.
LEARN MORE