For Saudi Aramco, a Pivot to Asia
Building refineries there echoes its U.S. strategy from the 1980s.
By and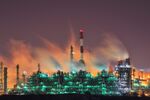 At the heart of Korea's Onsan refinery lies a street called A.I. Naimi Road, an homage to Saudi Arabia's oil minister. State-owned Saudi Arabian Oil Co. holds a 65 percent stake in the complex. The investment in Korea's third-largest refinery highlights the changes in the oil business as prices have plunged by more than half over the past two years. Saudi Arabia and other oil-rich countries are fighting to lock in customers for their crude, and Asia—which accounts for 70 percent of Saudi oil exports—is the primary battleground.
For Saudi Aramco, as the company is widely known, that means purchasing stakes in refineries, with contracts that include clauses guaranteeing most of the oil the facilities process will come from the kingdom. Aramco has invested in three processing facilities in Asia and is on the cusp of a dramatic increase in its commitments to the region, in countries from Indonesia to Vietnam. Owning refineries "in Asia is part of a long-term strategy to consolidate" the Saudi market share in a key region, says Mustafa Ansari, an analyst at Arab Petroleum Investments, a state-controlled development bank in Dammam, the city at the heart of Saudi oil country.
The Saudis pursued a similar path in the U.S. three decades ago to ensure sales as crude prices tumbled, buying into three oil-processing plants in Texas and Louisiana. The strategy worked: Saudi Arabia is the primary source of crude for Motiva Enterprises, the U.S. refiner half-owned by Aramco. This year through August, Motiva imported 65 million barrels of Saudi oil.
Selling more oil is critical to the fortunes of the kingdom. The crash in oil prices is forcing the Saudi government to cut its spending. The International Monetary Fund predicts a budget deficit exceeding 20 percent of the nation's economy this year. Saudi Arabia's new leader, King Salman, is at the same time pursuing a more aggressive foreign policy that includes major arms purchases and waging a costly war against Yemeni rebels.
At Aramco, recently appointed Chief Executive Officer Amin Nasser is overseeing a plan to make the world's biggest oil company a more integrated operation. Long focused on producing crude, Aramco plans to almost double its refining capacity by 2025, to 10 million barrels a day—equivalent to its current oil production and enough to put Aramco ahead of ExxonMobil as the world's largest refiner.
The Saudis aren't alone in seeking new customers in Asia. Kuwait is scheduled to open a refinery in Vietnam that's contracted to get more than 90 percent of its crude from the emirate. Iran and Qatar have floated the idea of investing in the region.
They've got catching up to do. In 2004, Aramco bought 15 percent of a Japanese refinery with a capacity of 395,000 barrels a day, and in 2007 it paid $1.3 billion for a quarter of a refinery in Quanzhou, China, with a capacity of 240,000 barrels.
"The biggest problem for Saudi Aramco is that fuel markets in several key Asian countries aren't liberalized," with governments often requiring refiners to sell gasoline and other fuels at subsidized prices—or even at a loss—to keep inflation in check, says Bassam Fattouh, director of the Oxford Institute for Energy Studies.
Aramco wants the right to sell what it refines at market prices, but the Chinese are reluctant to let market forces determine the price at the pump, according to people familiar with the situation who asked not to be identified because they aren't authorized to speak publicly. Although China has taken steps to free up prices, it's still tough for refiners to make a profit selling gasoline and diesel in the country. The market's also getting crowded. Russia this year topped the Saudis as China's biggest supplier of crude, and Iraq and Angola are making inroads.
In Indonesia, the Saudis have a preliminary agreement to invest in a refinery with a capacity of 370,000 barrels a day in central Java, and they plan to upgrade two other facilities with Pertamina, the Indonesian state-controlled oil company. Aramco will own half the Java plant, which will primarily use Saudi crude, according to Indonesian Energy Minister Sudirman Said. "We're optimistic," he says, "that we will start our cooperation with our first refinery and expand our cooperation."
—With Nayla Razzouk
The bottom line: With oil prices plunging, Aramco is trying to lock in customers by building refineries in Asia, as it did in the U.S. three decades ago.
Before it's here, it's on the Bloomberg Terminal.
LEARN MORE