Fed Takes the Fear Out of Markets as BlackRock Backs Yellen Move
by , , and
Treasury volatility measure declines the most in a year

VIX tumbles as Nikkei options index falls most since August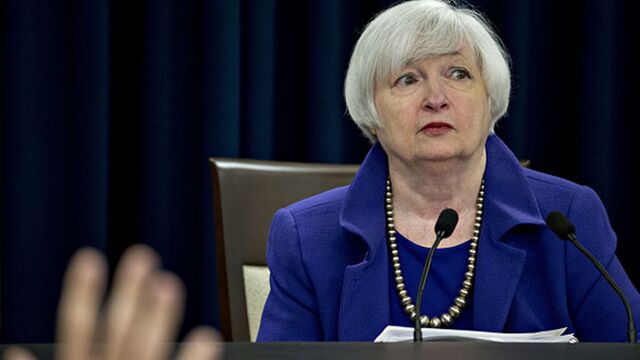 Federal Reserve Chair Janet Yellen has convinced investors around the world to breathe a little easier.

Measures of anxiety in bond, currency and equity markets declined after Yellen said the U.S. economy is improving and the central bank is in no rush to raise interest rates again after the first increase in almost a decade on Wednesday.
A Merrill Lynch index of anticipated price swings in Treasury notes dropped the most in a year, while volatility expectations for euro-dollar over one month slid to the lowest level since February -- on track for the biggest monthly net decline since April 2009. Gauges of protection against stock swings fell from the U.S. to Hong Kong and Europe, where the VStoxx Index headed for its biggest plunge since August.
"The uncertainty about when they're going to start raising is out the way," said Ayako Sera, a Tokyo-based market strategist at Sumitomo Mitsui Trust Bank Ltd., which has $453 billion under management. "I can breath a sigh of relief about that" after waking at 4 a.m. to read the Fed's statement, she said.

Volatility indexes climbed earlier this month as investors positioned for the start of a new era in U.S. monetary policy, having been whipsawed in September when the Fed's decision to keep interest rates at a record low surprised some analysts. Growing stress in America's junk bond market and plunging commodities kept traders on edge in the run-up to Wednesday's policy meeting.
Good News
While continued volatility in financial markets is inevitable, investors should view the Fed's move as "good news," BlackRock Inc. said in an e-mailed note. The world's biggest money manager prefers stocks over bonds, predicting that U.S. interest rates will remain low "for some time."
Global equities rallied after Yellen said the Fed's decision reflects its confidence in America's economy. The Standard & Poor's 500 Index climbed 1.5 percent on Wednesday, while the MSCI Asia Pacific Index added 0.9 percent on Thursday and the Stoxx Europe 600 Index rose 1.9 percent at 1:04 p.m. in London. Futures on the S&P 500 also gained.
The Chicago Board Options Exchange Volatility Index, a gauge of anxiety in stock markets known as the VIX, tumbled 15 percent on Wednesday after last week climbing to a two-month high. The Nikkei Stock Average Volatility Index, which just two days ago traded at the highest level since October, sank 13 percent. Hong Kong's HSI Volatility Index and the India VIX fell the most since September, while the VStoxx lost 15 percent.

One-month implied volatility for the dollar versus the yen declined for a third day after dropping on Wednesday by the most since October. The Merrill Lynch MOVE index of implied volatility in Treasuries retreated 12 percent.
"The well behaved nature of bond and equity markets overnight speaks to the Fed delivering on expectations," said Andrew Swan, head of Asian equities in Hong Kong at BlackRock, which oversees about $4.5 trillion worldwide. "Gradual rate increases will lead to a period of normality for rates and growth in Asia. This is our favored scenario."
Before it's here, it's on the Bloomberg Terminal.
LEARN MORE