Oil Drop Cushions Asia Economies as Fed Threatens Currencies
by
India, Thailand can benefit while battling falling exports

Oil helps differentiate the losers, according to Mizuho Bank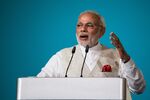 The slump in crude prices is hardly a silver bullet for Asian economies bracing for the fallout from rising U.S. interest rates. But it's a welcome cushion.
One of the top beneficiaries is Indian Prime Minister Narendra Modi, who's struggling to meet his deficit target. Cheaper oil will slash subsidies and keep inflation in check, leaving him with more cash to offset a revenue shortage. Lower import bills would also benefit Thailand and the Philippines as sluggish global demand hurts exports.
"These are all just things that make the countries more likely to kind of ride out any market turmoil," Daniel Martin, senior Asia economist at Capital Economics Ltd. in Singapore, said of falling oil prices. "I wouldn't expect any of their currencies to actually appreciate."
Asian policy makers including Indian central bank Governor Raghuram Rajan have warned of market swings from the Federal Reserve's first interest-rate increase in a decade. Even so, the ability to squirrel away oil savings means they have more dollars to smooth volatility without jeopardizing longer-term growth prospects.

In India, the more than 60-percent drop in oil prices since mid-2014 has enabled Modi to boost spending on crucial roads, ports and railways while pledging to shrink the budget deficit to an eight-year-low. The International Monetary Fund predicts India's current-account gap will narrow to 1.4 percent of gross domestic product this year from a record in 2012.
That eases pressure on the rupee, which is being hurt by outflows from bonds. Dollar-based investors stand to earn 8 percent, including interest, on rupee investments held through 2016. That's the highest return in Asia, Bloomberg data show.
"Fundamentally it is a positive because it's helping correct or improve the country's balance sheet," Sonal Varma, an economist at Nomura Holdings Inc. in Mumbai, said of lower oil prices. The impact on the exchange rate "might not show up immediately."
A Bloomberg index comparing the dollar's performance against 10 peers has risen more than 10 percent in the past year. Strategists polled by Bloomberg predict that all 10 major Asian currencies will fall against the dollar for a third year as China's slowdown jeopardizes global growth.
12 Months
The nations have just 12 months to utilize the oil windfall. Brent prices will rebound to $75 a barrel by the end of 2016 from about $37 now, Standard Chartered Plc predicts. Nomura forecasts "choppier seas" for Asia, with "laggards" -- China, Hong Kong, Korea, Singapore, Taiwan and Thailand -- outnumbering "leaders" -- India and the Philippines -- with Indonesia and Malaysia in the middle.
There will also be a "decoupling" from the Fed, with several Asian economies cutting rates further and adding fiscal stimulus, Nomura predicts.
"We always assume all else equal, this is what oil prices would have done. Unfortunately, all else is not equal, in fact all else is quite exceptional," said Vishnu Varathan, an economist at Mizuho Bank Ltd. in Singapore. Oil "helps to differentiate the losers. It translates into a slim buffer, nothing more than that."
Before it's here, it's on the Bloomberg Terminal.
LEARN MORE