Drug-Price Poster Boy's Arrest Unlikely to Curb Industry's Hikes
By
Turing CEO Shkreli charged with securities fraud in New York

Executive best known for raising price of anti-infective pill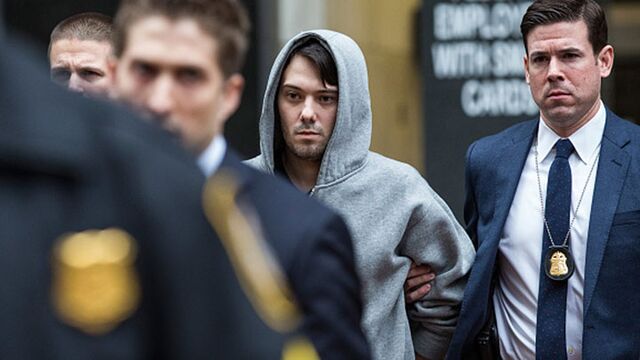 Threatening one tiny drug company's CEO with prison isn't going to stop drugmakers from raising prices on products.
Turing Pharmaceuticals AG Chief Executive Officer Martin Shkreli was arrested Thursday by U.S. law enforcement on charges of securities law violations that don't involve his current company. Shkreli has previously denied any wrongdoing in the matter, and Elissa Preheim, an attorney representing him, declined to comment Thursday.
What Shkreli is best known for, though, is using Turing to acquire the rights to an anti-infective drug often used by AIDS and cancer patients, and jacking up the price to $750 a pill from $13.50. In doing so, he became the flamboyant poster child of pharmaceutical price increases and the example held up by lawmakers as cause to reform the industry. The BBC went so far as to ask whether he was "the most hated man in America."
While Shkreli's price hike raised eyebrows because of its scale, significant increases are a common practice in the industry. For example, Merck & Co.'s diabetes pill, Januvia, has more than doubled in price since it was introduced in 2006. Novartis AG's cancer treatment Gleevec cost $32,000 in 2001 and is now about $120,000. Pfizer Inc., meanwhile, raised prices on at least 133 of its brand-name products this year.
Not Going Anywhere
Those types of smaller, subtler price hikes aren't going anywhere. The industry has said that it needs to recoup the cost of developing drugs and that list prices increases don't reflect the discounts and rebates they provide to health insurers. In other cases, drug companies like Gilead Sciences Inc., have said they have used high prices to set benchmarks for future therapies, in order to preserve their pricing power once competitors enter.
The Senate Special Committee on Aging has been examining price increases and will keep doing so despite Shkreli's arrest, said senators Susan Collins, a Maine Republican, and Claire McCaskill, a Missouri Democrat.
The panel is looking at "sudden, aggressive price spikes of some decades-old drugs, which is not limited to one person or one company." They requested information from Turing when they announced an investigation last month and have asked for information from Valeant Pharmaceuticals International Inc. as well.
'Stir the Pot'
Shkreli has claimed that his price increases don't hurt anyone. "I like to stir the pot, but I would never, ever price a drug beyond a sick person's reach," he said in a tweet two days before his arrest.
Edward Painter, a spokesman for Turing and KaloBios Pharmaceuticals Inc., another drugmaker run by Shkreli, didn't immediately respond to a call and e-mail seeking comment on Thursday. Pfizer and Gilead declined to comment, and spokesmen for Merck and Novartis didn't immediately respond to requests for comment.
If anything, the U.S. government may have done drugmakers a favor by silencing, at least temporarily, the head of a company that was called a "perversion of the system" by George Scangos, the CEO of biotechnology giant Biogen Inc.
Shkreli's companies are minnows swimming among the industry's whales. Retrophin Inc., the company he founded and ran before closely held Turing, is worth less than $1 billion. Valeant, for comparison, is worth about $40 billion, and Pfizer Inc. about $200 billion.
Investigations
Valeant, and Shkreli, are both the targets of a Democrat-driven investigation into drug pricing in the House of Representatives. Other drugmakers, such as Mallinckrodt Plc and Endo International Plc, have also faced questions over whether their business models were reliant on price increases -- and have distanced themselves from the practice. Valeant and Mallinckrodt declined to comment, and a press representatives for Endo didn't immediately respond.
Shkreli has been a more visible face of the industry than any of the CEOs who have either dissociated with him directly, or whose trade groups have said they want no part of him. He is interviewed frequently on television and in print, is a constant presence on Twitter and other online forums, and would even live-broadcast from his office video link.
'Capitalist System'
"No one wants to say it, no one's proud of it, but this is a capitalist society, a capitalist system, with capitalist rules, and my investors expect me to maximize profits, not to minimize them, go half, or go 70 percent, but to go to 100 percent of the profit curve we're all taught in MBA class," he said a Forbes summit in New York.
Doing anything else would be illegal, he said at the event. "I know that society can't put you in jail for violating fiduciary duty, but the federal government can," he said. "I take the law very seriously -- Delaware law is explicit, you must maximize shareholder opportunities."