Decision-Day Guide: BOJ Expected to Keep Wait-and-See Posture
by and
Forecast is for board to refrain from adding to stimulus

Watch for Kuroda's comments on Fed hike, oil and wages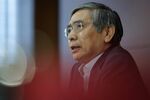 The Bank of Japan is expected to conclude its 14th and final policy meeting of 2015 by discussing the potential impact of the Federal Reserve's interest-rate increase and the effects of the renewed oil-price decline on its inflation target.
All but one of 42 economists surveyed by Bloomberg forecast that Governor Haruhiko Kuroda and his board won't further expand their unprecedented asset-buying program on Friday. The central bank currently conducts policy to increase the monetary base at an annual pace of about 80 trillion yen ($655 billion). Credit Agricole SA's economist is alone in forecasting additional stimulus this week.
"It's not time yet for the BOJ to step up," said Masamichi Adachi, an economist at JPMorgan Chase & Co. and a former central bank official. "Japan's recovery is gathering speed gradually and they can defend falling prices and weak inflation expectations by attributing to the plunge in oil for now."
Economists are divided on whether the BOJ will expand its easing policy in 2016. Forty-eight percent of respondents in a Dec. 9-16 Bloomberg poll said they don't expect additional stimulus for the foreseeable future. Fifty percent still predict that the central bank will loosen policy by April.
The BOJ typically announces its decision in the early afternoon, before Kuroda holds a news conference at 3:30 p.m. in Tokyo.
Here is what to watch on BOJ decision day:
Economic Outlook
Keep an eye out for any comments from Kuroda that show increasing optimism about the economic outlook.
Since the board's November meeting, several key pieces of data have indicated a pickup in Japan's economy as revised gross domestic product, capital spending, corporate sentiment and the jobless rate all outperformed analysts' estimates.
Goldman Sachs Group Inc. this month postponed its forecast for further easing to April from January, citing stronger-than-expected data including capital spending.
Oil Prices
While officials may be more confident about the economy's resilience, a plunge in oil prices poses risks to Kuroda's goal of reaching the 2 percent inflation target by around March 2017.
Look for any comments on how the decline in energy costs is affecting inflation expectations.
Dubai oil this week dropped to the lowest level since 2004. Oil has never traded above the price the BOJ assumed when compiling its latest price outlook in October. The BOJ made inflation forecasts on the premise that the commodity would rise from $50 a barrel to a range of $60-$65 toward the end of March 2018.
Given the renewed slide in crude oil prices and the risk this presents, BOJ officials are closely watching gauges of inflation expectations, people familiar with the matter who asked not to be identified because the discussions were private told Bloomberg.
BOJ's preferred price gauge dropped 0.1 percent in October for a third month. A BOJ inflation survey released Tuesday showed that companies have lowered their inflation forecasts in the past six months.

"The reality is that mid- to longer-term inflation expectations are waning at the moment," Kazuhiko Ogata, chief economist at Credit Agricole, wrote in a report on Dec. 15.
Fed Rates
Kuroda has repeatedly said the currency isn't BOJ's target. It's worth monitoring any remarks on foreign exchange, which can move markets.
Economists including those from JPMorgan Chase and SMBC Nikko Securities Inc. are closely tracking the currency's moves, because a yen level around 115 against the dollar could be a decisive factor in pushing the bank to expand stimulus.
The yen traded at 122.48 late in Tokyo on Thursday after the Federal Reserve raised its benchmark rate.
Risk of Surprise
With all but one economist surveyed by Bloomberg forecasting no change in BOJ policy at this meeting, it would be an opportunity for Kuroda to surprise the market again -- as he did in October 2014 by bolstering stimulus. The governor is said to like such surprises.
"When it comes to price developments being at stake, the bank must be the first mover," Kuroda told business leaders in Nagoya on Nov. 30.
If the BOJ goes against the predictions by easing further, Kuroda could support the move by pointing to some weakness in inflation expectations. After the Fed's rate increase, the yen is likely to weaken more against the dollar to reflect a divergence in monetary policy.
Before it's here, it's on the Bloomberg Terminal.
LEARN MORE