Photographer: Michael Nagle/Bloomberg
Charting the Markets: Investor Relief After Fed Liftoff
The dollar rises for a sixth day, gold drops for the first day in three and German-U.S. yield spread widens.
by
The most eagerly awaited U.S. interest rate decision for many a year has been met with approval by investors. The tightening of policy was well-telegraphed. It was the accompanying message that mattered: the U.S. economy is in good shape and any rate hikes from here will be gradual. Asian and European stocks are taking their cue from the U.S. session, which saw the S&P 500 Index jump 1.5 percent.

The U.S. dollar dropped when the Fed started tightening policy in 1994, 1999 & 2004. Some strategists believe this time will be different. The reason can be found in the Fed's projections for where rates will be in the future. As in September, four hikes are penned for 2016. That's two more than investors are pricing in, according to Fed fund futures. The thinking is: As the market catches up with the Fed, the dollar will rise. A Bloomberg gauge which tracks the greenback against 10 leading global currencies is gaining for a sixth day, the longest stretch in almost two months. The index has risen 9 percent in 2016, its third year of gains.

A strong dollar might not bode well for commodities, most of which are priced in the U.S. currency, making it more expensive for buyers of materials. The Bloomberg Commodity Index dropped to a 1999 low today. Gold might be an exception to the rule. Although the precious metal holds less appeal in rate tightening cycles because it doesn't pay interest of dividends like equities and bonds, a majority of traders and analysts surveyed by Bloomberg forecast it will rise in 2016. The median estimate is $1,200 an ounce, which is around 12 percent higher than today's price. Gold sank to $1,053 on Dec.2, the lowest in six years. It's heading for a third annual drop, its worst run since 2000.

The chart above best illustrates the divergence in policies between the Federal Reserve and the European Central Bank. After the first U.S. rate hike in almost a decade, the yield on U.S. two-year notes rose above 1 percent for the first time since 2010. German two-year yields haven't been above zero since August 2014. The difference in yield – or spread – between the two has risen for four days and is close to the highest since 2006, when the Fed last raised rates. The ECB has just embarked on a fresh round of stimulus, which will last until at least March 2017.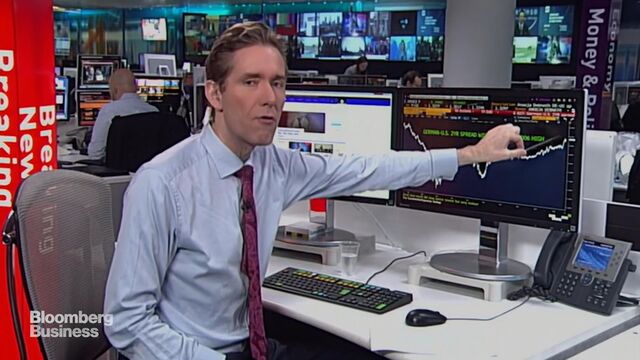 Mark Barton is a presenter on Bloomberg TV. Follow him on Twitter @markbartonTV
Before it's here, it's on the Bloomberg Terminal.
LEARN MORE