business
Putin Really Likes Sepp Blatter and Donald Trump
By
President's in good shape, model of fitness, journalist says

Blatter should win a Nobel, Trump's `colorful,' Putin says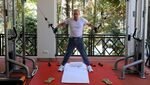 President Vladimir Putin is a model of masculine health for Russian women, who thinks suspended FIFA soccer chief Sepp Blatter should win a Nobel Peace Prize. He's also quite a fan of U.S. Republican presidential front-runner Donald Trump.
Putin's news conference in Moscow contained its lighter moments as more than 1,000 journalists competed for his attention, sometimes offering fawning praise if they were chosen. The president seemed impatient with the annual ritual at times, abandoning his habit of making opening remarks and abruptly ending proceedings after three hours and seven minutes during which few foreign journalists were called.
No Dope
One regional TV journalist couldn't resist declaring "as a woman" that Putin, a judo black belt, keeps himself "in good athletic shape" and is a role model for "boys" in her region. "Thank you very much for that," she said.
"It's without doping!" responded Putin, 63, who'd just answered a question about the ban on Russian track and field athletes from international competition over illegal drug use.
Soccer Star
FIFA has suspended Blatter as Swiss officials investigate a 2 million Swiss franc ($2 million) payment he made, while the soccer organization he heads is the target of a corruption probe by the U.S. Department of Justice.
For Putin, he's "a very respected person" who's made a "colossal" humanitarian contribution deserving of the Nobel Peace Prize for using soccer to promote cooperation between nations. Russia will host the World Cup for the first time in 2018.
Club Trump
Putin showered praise on Trump as "a very colorful and talented" figure who's the "absolute leader in the presidential race," as journalists huddled round the Russian leader at the end of the news conference.
Putin said Trump also wants to improve U.S. relations with Russia and "how couldn't we welcome that?"
Turkey Salt
Putin's known for employing salty language and he used it to good effect as he lashed out at Turkish leaders for downing a Russian warplane last month. He wondered if the conflict occurred because "someone in Turkey decided to kiss Americans on a certain body part" to gain favor with its North Atlantic Treaty Organization ally.
Meatballs Moment
Putin seemed amused by the name of a Kaliningrad news website, klops.ru, whose correspondent explained it came from a German word for a meal, perhaps expecting he'd recognize it as a former KGB spy in East Germany.
"Some kind of meatballs?" Putin asked. Yes, replied the journalist, looking slightly exasperated as she explained that she had a serious question concerning a colleague hit by a car at a pedestrian crossing.
Before it's here, it's on the Bloomberg Terminal.
LEARN MORE